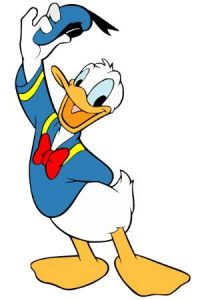 June 9 is Donald Duck Day. It celebrates the date in 1934 when he first appeared in a Disney cartoon called "The Wise Little Hen."
In his 1941 authorized biography, The Life of Donald Duck, he revealed he'd been born on Friday the 13th. When he starred in "Donald's Happy Birthday" in 1949, his car's license plate number read 313, which many fans took to mean he was born on March 13th.
This has caused a schism between those who celebrate Donald Duck Day on June 9th and those who insist it should be observed on March 13th. Although his publicist has not returned our calls, we believe Donald Fauntleroy Duck would approve of at least two days dedicated in his honor.
His performance in "Der Fuehrer's Face" helped it win the 1943 Academy Award for best animated short film. In it, he awakens in a nightmare world where he is a Nazi. (Its original title was "Donald Duck in Nutzi Land" but was changed to "Der Fuehrer's Face" after the novelty song by that name became a runaway hit.)
Propaganda films weren't unusual, but because Donald appeared as a Nazi, however unwillingly, the cartoon was considered objectionable and relegated to the Disney vault after the end of World War II. In 1994, a group of 1,000 members of the animation industry voted it one of the 50 greatest cartoons ever made. Ten years later, Disney finally released it in a set called "Walt Disney Treasures: On the Front Lines."
It's possible to find the compilation for sale on eBay but prices are high because Disney made only 250,000 sets in 2004. We can't find it on the Disney youTube channel but if you're curious, the cartoon is available through a few unofficial sources. Here's one:
There are links
here
and
here
to a version that includes a short explanatory prologue.
We'd like to leave you all with an observation made by Chandler Bing on the TV show "Friends."
You know what's weird? Donald Duck never wore pants. But whenever he's getting out of the shower, he always puts a towel around his waist. I mean, what is that about?
Happy Donald Duck Day!

https://www.worldwideweirdholidays.com/wp-content/uploads/2016/06/donald-duck-day-1-e1465504897634.jpg
300
300
Kathleen Zea
https://www.worldwideweirdholidays.com/wp-content/uploads/2016/04/WWWH-New-Header-2-e1501022841118.jpg
Kathleen Zea
2017-06-09 11:55:55
2017-06-09 18:37:56
Donald Duck Day