National Oatmeal Muffin Day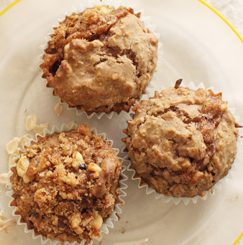 Today is National Oatmeal Muffin Day. We don't know who created it, but we do know how to celebrate it.
The following recipe comes from Anna Newell Jones. Her site, And Then We Saved, is an incredible resource of practical advice about how to reduce debt and enjoy daily life. She says it's the only oatmeal muffin recipe you'll ever need because it's so adaptable.
Super Oatmeal Muffins
Ingredients
1 cup milk (almond, soy or rice milk works great too)
1 cup quick-cooking oats or 1 cup old-fashioned oats (off-brand works perfectly and they are no different from the name-brand)
1 egg (or 1/4 cup of mashed banana or 1 tablespoon flax seed mixed with 2-3 tablespoons of water)
1/4 cup vegetable oil or 1/4 cup canola oil
1 cup all-purpose flour (or wheat flour)
1/4 cup white sugar
1 teaspoon baking soda
1/2 teaspoon salt
1 teaspoon cinnamon
Directions
Preheat oven to 425°f (220°c). Grease 12 muffin cups or line with paper muffin liners.
In a small bowl, combine milk and oats. Soak for 15 minutes.
In a separate bowl, beat together egg and oil; stir in oatmeal mixture. In a third bowl, sift together flour, cinnamon, sugar, baking soda and salt. Stir flour mixture into wet ingredients, just until combined. Spoon batter into prepared muffin cups until cups are 2/3 full.
Bake in preheated oven for 15-25 minutes or until a tooth pick inserted in center of muffin comes out clean.
Add raisins, nuts, berries, chocolate chips, or anything in your cupboard that sounds tasty and inspires you. Anna likes to add chopped walnuts covered in brown sugar and cinnamon to the center or as a topping. What are your favorite add-ins?
Have a delicious and fun National Oatmeal Muffin Day!

https://www.worldwideweirdholidays.com/wp-content/uploads/2016/12/national-oatmeal-muffin-day-e1482175979507.jpg
245
243
Kathleen Zea
https://www.worldwideweirdholidays.com/wp-content/uploads/2016/04/WWWH-New-Header-2-e1501022841118.jpg
Kathleen Zea
2016-12-19 14:45:47
2019-05-15 13:34:55
National Oatmeal Muffin Day