February 1 is G.I. Joe Day
Today is G.I. Joe Day. In February of 1964, toymaker Hassenfeld Brothers (later shortened to Hasbro) introduced its first doll specifically intended for boys at the American International Toy Show in New York. The company hoped to duplicate the success of Mattel's Barbie, which had been introduced in 1959 and sold a record 351,000 units in its first year.
But there was a problem. Parents wouldn't buy dolls for their sons. Playing with dolls was considered a girl's activity and boys generally wanted nothing to do with that. Some parents feared it might cause them to become effeminate and possibly even homosexual.
In a brilliant bit of marketing, the toymaker solved this issue by coining the term "action figure," which has been used for countless toys since. It further masculinized the toy by making it a military man, G.I. (Government Issue) Joe. The name came from a 1945 American war film called The Story of G.I. Joe.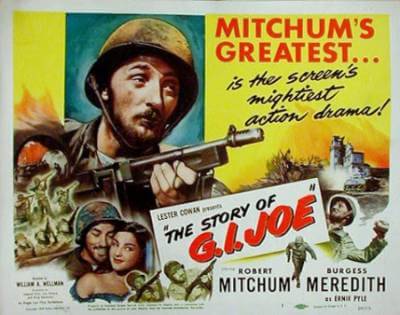 They also placed a scar across his right cheek. Not only did it denote manly ruggedness, combat and valor, but also enabled Hassenfeld Brothers to copyright the toy. (A generic human figure cannot be copyrighted.) The scar made it an identifiable character as did a production glitch that gave Joe an inverted thumbnail.
In an inspired feat of cross-promotion, Hasbro produced a television cartoon called G.I. Joe: A Real American Hero as a vehicle to sell toys. It debuted as two five-part miniseries in 1983 and 1984 and ran as a regular series from 1985 to 1987. The show introduced new heroes, villains and storylines, spawning an ever-increasing number of action figures and turning viewers into avid collectors.
Each episode concluded with a Joe teaching kids valuable lessons like, "don't go with strangers," "don't paint your bike in the garage," and "blind kids can find lost kittens, too." The kids would say, "Now we know!" and Joe would reply, "And knowing is half the battle!"
Now you know.

https://www.worldwideweirdholidays.com/wp-content/uploads/2016/02/GI-Joe-Day.jpg
315
400
Kathleen Zea
https://www.worldwideweirdholidays.com/wp-content/uploads/2016/04/WWWH-New-Header-2-e1501022841118.jpg
Kathleen Zea
2017-02-01 14:55:51
2022-04-07 12:09:24
February 1 is G.I. Joe Day