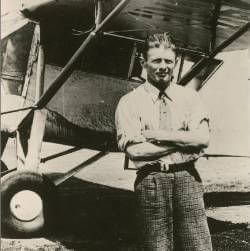 Today is Wrong Way Corrigan Day. On July 17, 1938, Douglas Corrigan (January 22, 1907 – December 9, 1995), a pilot and aircraft mechanic who had recently flown from California to New York, took off from Floyd Bennett Field in Brooklyn, ostensibly to make the transcontinental trip back to Long Beach. Things didn't go according to plan.
Five years earlier, Corrigan had purchased a used 1929 Curtiss Robin OX-5 monoplane with the intention of making a transatlantic flight just as aviator Charles Lindbergh had. He built a new engine with 165 horsepower instead of the Robin's original 90 and fitted it with extra fuel tanks.
In 1935, he applied for permission to make a nonstop flight from New York to Ireland. The Bureau of Air Commerce rejected his request, stating that his plane was unfit for the transatlantic trip, although it met the requirements necessary to make cross-country voyages.
Corrigan made further modifications and repeatedly applied for full certification to no avail. In 1937, he was informed that his numerous alterations had rendered the plane too unstable for safe flight, and its license would not be renewed.
On July 9, 1938, Corrigan left Long Beach bound for Brooklyn, having secured an experimental license, permission for a transcontinental flight and conditional consent for a return trip. Cruising at 85 miles per hour for maximum fuel efficiency, he made the trip in 27 hours. Near the end of the flight, a gasoline leak developed in one of the tanks, filling the cockpit with fumes.
After landing at Floyd Bennett Field, where all available resources were being used to assist Howard Hughes in his preparations for takeoff on a world tour, Corrigan decided repairing the tank would take too long if he was to meet his scheduled return flight on July 17, 1938. At 5:15 that morning, with 320 gallons of gasoline and 16 gallons of oil, Corrigan took off and headed east. He kept going.
Corrigan later claimed he'd been unaware that he was navigating by the wrong end of the compass needle until 26 hours later. If he'd noticed the cockpit flooding with gasoline after ten hours, as he recounted in his autobiography, he would likely have tried to land the plane—if, that is, he believed there was land below.
Instead, he used a screwdriver to punch a hole through the floor opposite the exhaust pipe so the draining gasoline would be less likely to cause an explosion. Then he reported increasing the engine speed by more than 20 percent to decrease his flight time.
He landed at Baldonnel Aerodrome in Dublin, Ireland, after a 28-hour, 13-minute flight. His stunt (or mistake) caught the public's attention. As a result of his newfound fame, officials were obliged to let Corrigan off the hook. His pilot's license was suspended for only two weeks. When he and his plane returned via steamship to New York, the city greeted him with a ticker-tape parade.
The man who became known as "Wrong Way" Corrigan never admitted he'd done it on purpose.

https://www.worldwideweirdholidays.com/wp-content/uploads/2016/07/wrong-way-corrigan-day.jpg
251
250
Kathleen Zea
https://www.worldwideweirdholidays.com/wp-content/uploads/2016/04/WWWH-New-Header-2-e1501022841118.jpg
Kathleen Zea
2017-07-17 11:55:48
2017-07-17 17:15:15
Wrong Way Corrigan Day