April 11 is International Louie Louie Day
Today is International Louie Louie Day and celebrates the birthday in 1935 of Richard Berry, the composer and singer of one of the most-recorded songs of all time.
Berry took inspiration from the rhythm of  "El Loco Cha Cha" when writing his tune. He and his band, Richard Berry and the Pharoahs recorded "Louie Louie" in April 1957 as a calypso doo-wop B-side to "You Are My Sunshine."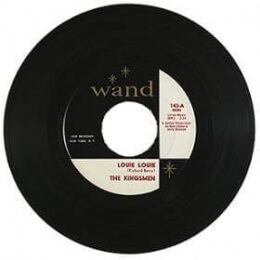 The Kingsmen recorded the version most of us know in 1963. Singer Jack Ely's unintelligible shouting—crappy microphones and Ely's braces certainly didn't help—led many to suspect the lyrics had been altered and must be "dirty." Imaginations ran wild; teenagers invented ever more titillating interpretations.
It was rumored the record had "off-color lyrics which could be detected when the 45 r.p.m. platter was played at 33⅓ r.p.m." Attorney General Robert Kennedy and FBI director J. Edgar Hoover received letters from anxious parents. One mother wrote that it didn't matter what the words were if they were intended to sound obscene.
An investigation was launched in February 1964. Agents played the song for several months before finally giving up and filing the following report, available thanks to the Freedom of Information Act:
Investigations of the record were started by the Federal Communications Commission (FCC), the Post Office and Justice Departments after complaints were received from about a half dozen persons, including Indiana governor Matthew E. Welsh.

All three governmental agencies dropped their investigations because they were unable to determine what the lyrics of the song were even after listening to the records at speeds ranging from 16 rpm to 78 rpm.
Oddly enough, all those ears missed the only actual obscenity. It occurs at about 54 seconds in when Lynn Easton drops a drumstick and yells, "F**k!"
In 2015, VH1 chose its top 11 covers of "Louie Louie," and gathered the videos, including ones by the Beatles, Led Zeppelin and Iggy Pop. John Belushi's performance in National Lampoon's Animal House cemented the song's status as a frat party anthem.
Happy International Louie Louie Day!

https://www.worldwideweirdholidays.com/wp-content/uploads/2016/04/international-louie-louie-day-e1460426286566.jpg
260
260
Kathleen Zea
https://www.worldwideweirdholidays.com/wp-content/uploads/2016/04/WWWH-New-Header-2-e1501022841118.jpg
Kathleen Zea
2017-04-11 11:55:14
2022-05-22 13:11:53
April 11 is International Louie Louie Day