August 30 is Hellespont Swim Day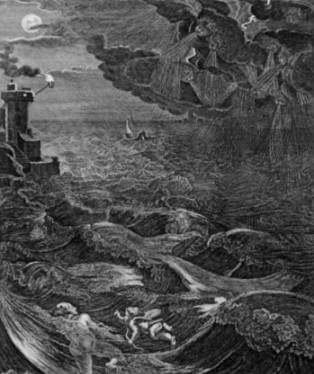 Today is Hellespont Swim Day, when participants will follow the path swum in 1810 by Lord Byron, an English poet and a leader in the Romantic movement.
Byron chose the course in honor of the Greek myth of lovers Leander and Hero. Hero, a priestess of Aphrodite, lived in a tower in Sestos (the present-day town of Yolikabot in Turkey), on the European shore of the strait of Hellespont (now known as Dardanelles).
Leander, who lived in Abydos (now the Turkish village of Nara) on the opposite shore, met Hero at a festival and quickly convinced her that the virginity her parents so closely guarded would not please Aphrodite, the goddess of love.
Hero knew her parents would never allow her to marry an outsider. When Leander vowed he would swim across the Hellespont every night if she would have him, she agreed to hang a lantern in the tower to guide him.
They were happy until one stormy night when Leander's ardor overcame his judgment and he tried to swim to her through tempestuous waters. When high winds blew out Hero's lantern, he lost his way and drowned. When she saw his body wash ashore the next morning, she threw herself from the tower to her death.
In reality, as in myth, the swim is a perilous one. The strait is anywhere from 3/4 to 4 miles wide; water flows from the Sea of Marmara to the Aegean Sea via a surface current and in the opposite direction via an undercurrent. This creates dangerous conditions for ships, let alone swimmers.
When Lord Byron went into the water, the swim was considered too dangerous to attempt. He was the first person known to accomplish it. He later wrote, in The Bride of Abydos:
The winds are high on Helle's wave,
As on that night of stormy water
When Love, who sent, forgot to save
The young—the beautiful—the brave—
The lonely hope of Sestos' daughter.
Oh! when alone along the sky
Her turret-torch was blazing high,
Though rising gale, and breaking foam,
And shrieking sea-birds warned him home;
And clouds aloft and tides below,
With signs and sounds, forbade to go,
He could not see, he would not hear,
Or sound or sign foreboding fear;
His eye but saw that light of Love,
The only star it hailed above;
His ear but rang with Hero's song,
"Ye waves, divide not lovers long!"—
That tale is old, but Love anew
May nerve young hearts to prove as true.
Although others have since achieved the feat, it remains a test of strength and endurance. In 2000, Simon Murie decided to celebrate his birthday by tracing Byron's route. The days of effort it took to acquire permission gave him the idea to create a service for intrepid swimmers like himself. Since 2003, Murie's SwimTrek has organized swims at 40 locations around the globe. 
Today, the world's most concentrated shipping lane closes during the swim inspired by ancient myth and English poetry. Participants can race or just enjoy the course, which follows an ellipse to compensate for the current. Today's date coincides with Turkey's Victory Day which commemorates its victory in the War of Independence on August 30, 1922.
Happy Hellespont Swim Day!

https://www.worldwideweirdholidays.com/wp-content/uploads/2016/03/hellespont-swim-day.jpg
314
314
Kathleen Zea
https://www.worldwideweirdholidays.com/wp-content/uploads/2016/04/WWWH-New-Header-2-e1501022841118.jpg
Kathleen Zea
2017-08-30 11:07:51
2022-04-07 01:30:53
August 30 is Hellespont Swim Day