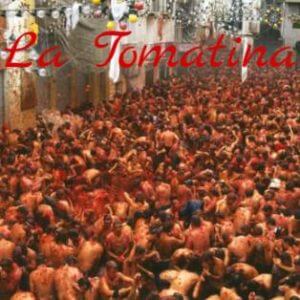 Today is La Tomatina, a legendary festival held on the last Wednesday of August in the Spanish town of Buñol.
Thousands come from around the world to participate in what is billed as the World's Biggest Food Fight.
The tradition is only 72 years old, relatively new in European terms, but no one can seem to agree about how it got its start.
Some say two boys picked a fight during a parade and began hurling tomatoes from a nearby vegetable stand at each other, inspiring others to join in.
Others maintain it was a practical joke played on a bad musician or a spontaneous act after a cart spilled tomatoes onto the street.
Many townsfolk claim it originated when residents expressed their displeasure with local government by pelting councilmen with tomatoes.
At some point, the practice came to the attention of dictator Francisco Franco, who banned it because of its lack of religious significance. By all accounts, it didn't put a stop to the fun. After his death in 1975, the celebration came out of the shadows and began to attract revelers from near and far.
In 2002, La Tomatina was declared an official festival in 2002 by the Spanish Department of Tourism. By 2012, an estimated 50,000 people descended upon the town of 9,000. Since then, the town has instituted an official ticketing system, charging $12 each and limiting the total admission to 20,000. Tickets sell quickly and lodgings in Buñol and nearby Valencia fill up well in advance.
At around 11 am, several dump trucks haul approximately 150,000 tomatoes into Plaza del Pueblo, the center of town. According to tradition, someone must climb the Palojabón ("hamstick"), a two-story high greased wooden pole, and retrieve the ham perched on top before the festival can begin. It's a time-consuming contest and, more often than not, no one reaches the ham. So it is also traditional that, after fueling impatience and heightening anticipation, the food fight starts anyway.
Water cannon fire signals the beginning. The only rules of battle are that tomatoes must be squished before throwing to avoid injury and tomatoes are the only weapons allowed. Before long, thousands are drenched in juice and covered in pulp, gleefully lobbing tomatoes at everyone in sight.
Exactly one hour later the fighting is stopped and no more tomatoes can be thrown. Fire trucks spray the streets with water from a Roman aqueduct. The acid from the tomatoes scours surfaces, leaving them cleaner than they had been an hour before. Shop owners take down the plastic covers they used to shield their businesses. Some people walk to the Buñol River to clean themselves up. Everyone starts planning for next year.
Feliz La Tomatina!

https://www.worldwideweirdholidays.com/wp-content/uploads/2016/08/la-tomatina.jpg
314
314
Kathleen Zea
https://www.worldwideweirdholidays.com/wp-content/uploads/2016/04/WWWH-New-Header-2-e1501022841118.jpg
Kathleen Zea
2017-08-30 12:32:36
2017-08-30 22:20:26
La Tomatina