November 30 is Perpetual Youth Day
Today is Perpetual Youth Day, always celebrated on November 30th in honor of Dick Clark's birthday. Although he'd been born in 1929, Clark appeared to age very little during the five decades of his career, earning him the nickname of "America's oldest teenager."
In 1957, Clark hosted a local Philadelphia television show called Bandstand, which he pitched to ABC as cheap, easy afternoon programming that would appeal to youth. The network, perennially in third place, was desperate to capture that demographic. On August 5, 1957, American Bandstand premiered to a national audience. It was an instant hit.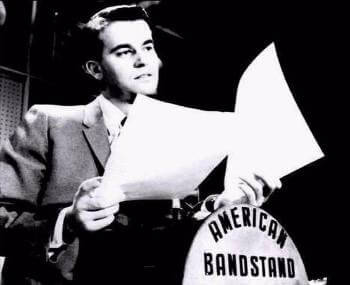 Clark hosted the show for thirty years, giving many bands their first U.S. TV appearances. Among the diverse artists he introduced to American audiences were Aretha Franklin, Madonna, The Doors, Stevie Wonder, Sonny and Cher, Ike and Tina Turner, Neil Diamond, The Guess Who, Barry Manilow, Adam and the Ants, Kim Carnes, Blondie, Smokey Robinson and the Miracles, Grace Jones, Gladys Knight and the Pips, and Prince.
The clean-cut, "square" host sometimes made music history. According to American Bandstand Timeline, on August 6, 1960:
When scheduled guest Hank Ballard and the Midnighters fail to show up to perform their hit R&B song "The Twist," Clark convinces friend Chubby Checker to go into the studio quickly and cut a soundalike version in half an hour. Demonstrating the dance on TV, Chubby gets an instant #1 hit and sets off the nationwide "dance craze" that would last the better part of two years.
On January 6, 1979:
Dick Clark develops a series of moves for the audience to perform while the Village People's new song is debuted on Bandstand. The group goes along with the idea, and the "YMCA" dance is born.
Not every appearance was destined to become a classic. All guests on American Bandstand were required to "mime" their songs. It was fairly obvious from the lack of wires and amplifiers onstage that bands were simply going through the motions.
In late 1967, Pink Floyd's frontman Syd Barrett refused to lip-sync "Arnold Layne," staring into the camera instead with a look that would later come to represent his descent into madness. The group canceled its first U.S. tour.
The Talking Heads debuted on American television on March 17, 1979, singing "Take Me to the River" and "Thank You For Sending Me An Angel." Although they were reportedly unhappy about having to mime, American Bandstand was an opportunity too good to refuse.
First, Clark apologized for pronouncing Tina Weymouth's name incorrectly, then launched into an interview of David Byrne, who looked embarrassed and gave monosyllabic replies. Clark then turned back to Tina and asked, "Is he always this enthusiastic?" She replied, "I guess he's organically shy." It didn't get any better. One imagines everyone was praying for the next commercial break.
Public Image Ltd. appeared on the show on May 3, 1980. Here's how lead singer John Lydon, formerly known as Johnny Rotten of the Sex Pistols, described the experience in his autobiography, Anger is An Energy.
It all got off on the wrong foot when we arrived and they suddenly informed us that it would be a mimed thing. Our equipment hadn't arrived in time, apparently, but we soon got even more upset when they said, 'Oh no, you couldn't play it live anyway, just mime to the record.'

They'd made up some edited versions of "Poptones" and "Careering," and gave us a cassette to check it out beforehand. 'Oh my God, they've cut it down to that? I don't know where the vocals are going to drop. What are we supposed to do?' None of us knew. Just thinking about trying to sing it like the record was…aarghh! You can fake it with an instrument but you can't as the singer. 'Okay, so you've cut out the point and purpose, it's like removing the chorus from the National Anthem, just because it makes for an allotted time slot on a TV show. That's arse-backways!'
Lydon solved the problem by barely making an effort to lip-sync the first song. He pushed people around in the audience, pulling some onto the stage as they squealed and clutched at him as if he were a rude, sullen Beatle.
Between songs, Clark attempted to be a good sport, inviting the rest of the audience onstage. On "Careering," Lydon abandoned any pretense of miming the words and began wandering around the stage, giving his mic away and snorting nasal spray on-camera. Needless to say, the band was not invited back.
American Bandstand was not Dick Clark's only claim to fame. In 1959, he hosted a forty-nine-day road show called Caravan of Stars that traveled throughout the U.S. and Canada and featured Bo Diddley, Bobby Darin, Buddy Holly, Annette Funicello and Chuck Berry, backed by a seventeen-piece orchestra.
He hosted the Dick Clark Show (1958-60) and Where the Action Is (1965-67), produced and/or hosted TV's Bloopers & Practical Jokes (on-and-off, in one form or other, from 1984-2012) and guest-starred on Perry Mason in 1966, Adam-12 in 1972, and appeared twice as himself in Fresh Prince of Bel-Air (1994, 1996) and once on Dharma & Greg (2002). He also owned several restaurant chains and had the dubious distinction of being questioned by Michael Moore in Bowling for Columbine about refusing to pay food workers a living wage.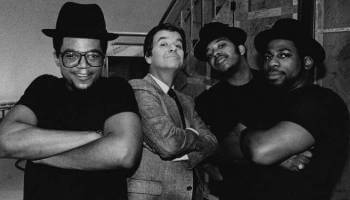 He founded dick clark productions (dcp) in 1957, now the world's largest owner and producer of events such as Academy of Country Music Awards, Billboard Music Awards, Golden Globe Awards and Miss America and weekly programs such as So You Think You Can Dance. dcp also owns a large archive spanning more than fifty-five years of award-winning shows, specials, performances and historical programs.
Dick Clark hosted New Year's Rockin' Eve from January 1, 1974, through January 1, 2004. Clark suffered a stroke on December 8, 2004, and Regis Philbin stepped in as guest host. Despite initial reports that the stroke had been minor, it resulted in dysarthria, a disorder which affects the muscles that help produce speech, making it very difficult to pronounce words. It doesn't interfere with cognitive understanding of language but can lead to impairment of intelligibility and audibility of basic vocal communication.
The stroke also caused partial paralysis and Clark had to learn to walk and talk again. It was assumed his career as a broadcaster was over. But he was back to ring in 2006 with Ryan Seacrest, whom he'd chosen as his successor. Some found it uncomfortable and even depressing to watch Clark struggle to make himself understood.  Others, particularly those who'd had a stroke and spent hours every day fighting to regain speech and movement, cheered him on, hailing him as an inspiration.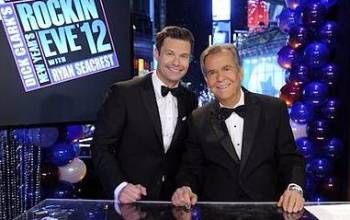 Though his role had dwindled to figurehead status, Dick Clark never missed the rebranded Dick Clark's New Year's Rockin' Eve with Ryan Seacrest and helped the nation usher in 2012 before his death on April 18th of that year, caused by a massive heart attack during prostate surgery.
Perhaps Perpetual Youth Day is a misnomer given its dedication to a man who has shuffled off this mortal coil. But maybe it's the perfect way to describe a person who introduced generations of kids to rock'n'roll while setting parents at ease. If a nice young(ish) man like Dick Clark thought it was okay to give airtime to Run DMC (Jam Master Jammin'), Prince (I Wanna Be Your Lover), Dokken (Just Got Lucky), Jefferson Airplane (White Rabbit), The Doors (Light My Fire) and Psychedelic Furs (Heaven), then it had to be okay, right?

https://www.worldwideweirdholidays.com/wp-content/uploads/2015/11/perpetual-youth-day-dick-clark.jpg
220
350
Kathleen Zea
https://www.worldwideweirdholidays.com/wp-content/uploads/2016/04/WWWH-New-Header-2-e1501022841118.jpg
Kathleen Zea
2017-11-30 07:00:06
2022-04-11 21:21:48
November 30 is Perpetual Youth Day