November 20 is National Absurdity Day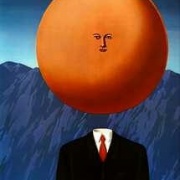 National Absurdity Day: is there any occasion that cries out more loudly to be taken seriously while simultaneously laughing at anyone who does? Of course not, silly. Holidays can't talk.
Grab a copy of The Myth of Sisyphus by Albert Camus or just about anything by Samuel Beckett. Add Pee Wee's Big Adventure to your Netflix queue. Join the Church of the Flying Spaghetti Monster.
Meanwhile feast on this gem, courtesy of Anti-Joke:
A man walks into a bar and pauses: at the other end of the bar, there's this guy with a big orange head. Just sitting there, looking into his drink. So the man asks the bartender, "Say, what's up with the guy with the big orange head?" And the bartender says, "It's an interesting story. Buy him a drink and maybe he'll tell it to you."
So the man walks over and introduces himself and offers to buy a round. The guy with the big orange head says, "Yeah, I'll bet you want to know the story, huh?" To which the man replies, "Sure, if you don't mind."
The man with the big orange head sighs and says, "You know, I've gone over it in my mind a million times. Basically, it went like this: I was walking along the beach one day when I stubbed my toe on something. I looked down, and there was an antique brass lamp. I picked it up and dusted it off a little — when all of a sudden this enormous genie pops out!
"The genie thundered, 'You have released me from my ten-thousand-year imprisonment, and I am in your debt. I will grant you three wishes as a token of my gratitude.'"
The man at the bar is agape. The guy with the big orange head continues: "So I said, 'Wow, okay. Well, my first wish is to be fantastically wealthy.'
"The genie says, 'Your wish is granted.' And all of a sudden I have rings on my fingers and a crown on my head, and my wallet is full of money and a dozen ATM cards and the deed to a mansion in the hills — I mean, I was loaded!
"So I said, 'Amazing! Okay, for my next wish, I want to be married to the most beautiful woman in the world.'
"The genie says, 'Your wish is granted.' And the ocean parts, and out walks this gorgeous woman in this beautiful dress. She takes my hand, and we fall in love and the genie marries us right there. It was incredible.
"The genie booms, 'You have one wish remaining.'"
The man with the big orange head pauses and sips his beer. He says, "Now, you know, this may be where I went wrong. I wished for a big orange head."
Happy National Absurdity Day!

https://www.worldwideweirdholidays.com/wp-content/uploads/2015/11/national-absurdity-day-big-orange-head.jpg
300
215
Kathleen Zea
https://www.worldwideweirdholidays.com/wp-content/uploads/2016/04/WWWH-New-Header-2-e1501022841118.jpg
Kathleen Zea
2020-11-20 09:00:33
2022-04-06 17:18:31
November 20 is National Absurdity Day