February 13 is Get a Different Name Day
Today is Get a Different Name Day.  Why did Ruth and Tom Roy of Wellcat create this holiday? "For the pity of millions of us who hate our birth names. On this day, we may change our names to whatever we wish and have the right to expect colleagues, family and friends to so address us."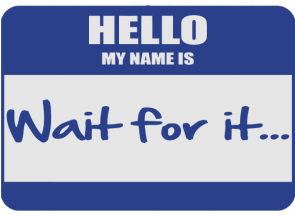 But why stop there? If you're unhappy with your parents' choice of name, as many children of celebrities undoubtedly will be, change it for good. Legally speaking, the first and most important step is simply to begin writing your new name on forms and correspondence, using it in conversation and introductions to new people.
The most common reasons people change their surnames are marriage and divorce. After a split, a spouse may want to jettison the name she (or he, but mostly she) took when wed. A parent who gains custody may wish to change the child's last name from that of the former spouse, especially if the divorce was contentious. The situation is further complicated when the child has been given a hyphenated name representing the family name of each parent.
Another reason people shed their last names is to escape the angry aftermath caused by the scandalous, often criminal acts of one who shares their family name. Relatives of  Osama Bin Laden,  Jerry Sandusky and Bernie Madoff have changed their names to avoid public vitriol and get a new start, free of negative associations.
Every once in a while, someone turns this trend on its head by purposely naming children for, say, a mass murderer. In 2008, a couple complained to local news outlets that a New Jersey Shop Rite refused to make a birthday cake that read "Happy Birthday, Adolf Hitler" for their son, who was turning three.
Usually, a child must wait until he or she reaches 18 years of age to petition for a legal name change. That doesn't mean that Adolf or North West, Bronx Mowgli, Pilot Inspektor, Zuma Nesta Rock or Sparrow James Midnight has to use that name. But Mom and Dad might not like to admit that their choice was more vanity plate than proper name.
Find information and guidelines about acceptable names: nothing obscene, no racial slurs, numerals or punctuation. You may not assume a famous person's name to sow confusion and/or commit a crime. (For example, calling yourself Warren Buffett to get a nice table at a hot restaurant or access to his bank account is prohibited.)
But, just for today, forget all the rules and have fun. (Except for the Warren Buffett thing; that's never okay.) Rename yourself for the day. Get your friends to join in. If you decide to make it permanent, here's some information that will show you how.
Have a happy Get a Different Name Day!

https://www.worldwideweirdholidays.com/wp-content/uploads/2016/02/get-a-different-name-day-e1455336580438.png
216
295
Kathleen Zea
https://www.worldwideweirdholidays.com/wp-content/uploads/2016/04/WWWH-New-Header-2-e1501022841118.jpg
Kathleen Zea
2017-02-13 13:55:11
2021-01-22 23:43:59
February 13 is Get a Different Name Day