February 14 is National Ferris Wheel Day
Today is National Ferris Wheel Day, a holiday that celebrates the birth of George Washington Gale Ferris on February 14, 1859. At age 33, he designed the first Ferris Wheel, which was introduced at the 1893 World's Columbian Exposition.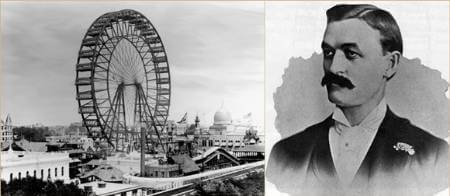 The exhibition was also known as the Chicago World's Fair and commemorated the 400th anniversary of Columbus' landing in the New World. It was one year late but, considering that Columbus actually landed on an island in the Caribbean, thought he was in Asia and never set foot on what would become the United States, maybe we should let it slide.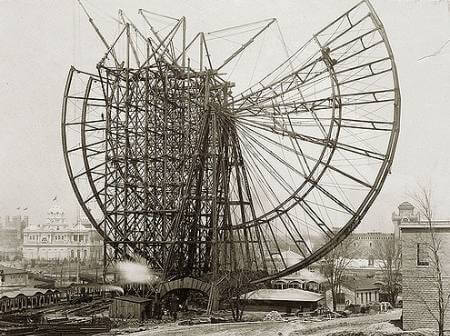 The Ferris Wheel was America's answer to the Eiffel Tower, the jewel of the 1889 Paris Exposition. When completed, the ride stood 264feet high, with a circumference of 825 feet, and had 36 cars, each 24 feet long, 13 feet wide and 10 feet high, weighing 26,000 pounds. Screens were fitted over the glass windows on each side. Doors locked securely; firefighting equipment was included. Conductors rode in each car to answer questions and allay fears.
Cars held up to 60 passengers at a time, with a total capacity of 2,160. It took 20 minutes to complete two revolutions, stopping at six platforms to admit and unload passengers then making a nine-minute nonstop rotation. A guard was posted on each platform to signal the operator when it was safe to resume.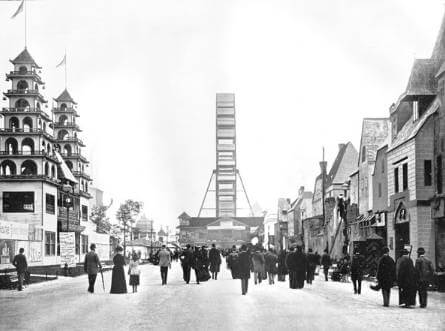 The Ferris Wheel opened on June 21, 1893, carrying up to 38,000 passengers daily. A ticket cost 50¢. More than 1.4 million people rode it over the next 19 weeks. On clear days, it was possible to see the fairgrounds, the surrounding city and countryside of four neighboring states. Three thousand of Edison's new lightbulbs mounted on the wheel made it a spectacle at night as well. The ride had a perfect safety record.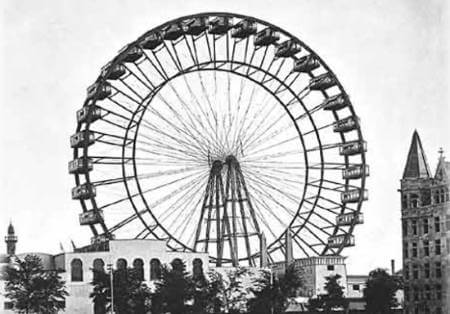 After the fair closed, George Ferris became convinced he'd been cheated out of his share of the reported $750,000 profits the ride earned for exhibition management. His investors and suppliers pursued him for nonpayment. He was also sued by makers of similar "pleasure wheels" for patent infringement. He spent the next two years embroiled in litigation.
Although he eventually proved himself to be his ride's rightful inventor, the efforts took an emotional and physical toll on him. In 1895, instead of selling the wheel to an amusement park like Coney Island, Ferris paid to have it dismantled and rebuilt in Chicago's Lincoln Park, hoping to earn a profit from ticket sales. The venture was a failure.
In what would prove to be his last attempt to pay debts, he sold most of his interest in the business he'd built, G.W.G. Ferris & Company, to his partners. He died of typhoid fever on November 22, 1896, at the age of 37. After his death, it was revealed that he was bankrupt and his wife had left him the year before.
On June 3, 1903, the Chicago Tribune reported that the Ferris Wheel, with $400,000 in outstanding debts, had been sold at auction for $1,800 to a wrecking company called Old Truck, which took it down and reassembled it for the 1904 World's Fair in St. Louis, Missouri. It's estimated to have carried 2.5 million passengers from its inaugural day in 1893 through its last day of operation in 1904.
In 1906, with neighbors complaining about the eyesore that remained, the Ferris Wheel was reduced to rubble with dynamite. Demolition experts had to use twice the amount of TNT they thought would get the job done. The first 100 pounds brought down the wheel but didn't destroy the foundation. Workers drilled holes into the concrete and dropped in 100 pounds' worth of dynamite sticks. What was left was hauled away as scrap.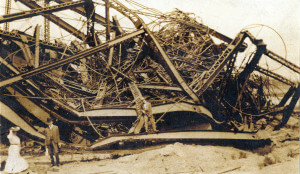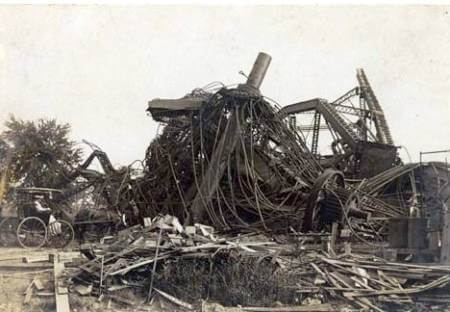 Perhaps what we should remember about Ferris are his contributions as an engineer to the modern usage of steel in building construction and the experience he gave to millions. As journalist Robert Graves reported in 1893, "It is an indescribable sensation, that of revolving through such a vast orbit in a bird cage."
Happy National Ferris Wheel Day!

https://www.worldwideweirdholidays.com/wp-content/uploads/2016/02/national-ferris-wheel-day.jpg
314
450
Kathleen Zea
https://www.worldwideweirdholidays.com/wp-content/uploads/2016/04/WWWH-New-Header-2-e1501022841118.jpg
Kathleen Zea
2017-02-14 13:55:32
2020-11-17 12:28:25
February 14 is National Ferris Wheel Day