July 23 is Gorgeous Grandma Day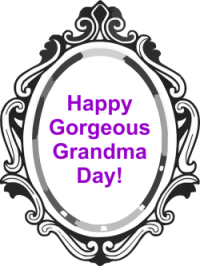 Today is Gorgeous Grandma Day, created by author Alice Solomon. After graduating from Wellesley College in 1984, at age 50, she felt she and her generation had been written off and branded "senior citizens" by society.
Solomon believed this occurred the moment she hit the half-century mark. "In an instant and only one day older, I was thought of as over the hill, no longer sharp, strong, vital, useful, sexy, hip, interesting, or worthy of hiring; in other words finished, kaput," she explained in a 2007 interview. The concept of Gorgeous Grandma was born.
For months, I tried to think of a name for our group, one that would be upbeat, fun, catchy and grab attention. Finally, 'gorgeous' was selected because it presents a snappy, 'notice me' image, while 'Grandma' instantly defines an age group and stage of life regardless of whether a woman is actually a grandmother.
Using that definition, Solomon created Gorgeous Grandma Day to celebrate women over 40. She wrote two books on the subject, became a motivational speaker, a part-time radio host and launched Gorgeous Grandma Communications in West Palm Beach, Florida.
Nowadays it's hard to imagine labeling any 50-year-old as a senior citizen. For that matter, the term "senior citizen" no longer carries the stigma it once had. Thanks to Alice Solomon and many other women like her, today's generation doesn't have to worry about that.
Have a happy Gorgeous Grandma Day! (You know who you are.)

https://www.worldwideweirdholidays.com/wp-content/uploads/2017/07/frame-308791_640-e1500746717991.png
266
200
Kathleen Zea
https://www.worldwideweirdholidays.com/wp-content/uploads/2016/04/WWWH-New-Header-2-e1501022841118.jpg
Kathleen Zea
2017-07-23 11:55:16
2017-07-22 14:10:04
July 23 is Gorgeous Grandma Day