October 19 is Stuck in Line with a Conspiracy Theorist Day
Today's holiday, Stuck in Line with a Conspiracy Theorist Day, commemorates an event taking place this morning in local post offices across the United States. (The post office seems to be the locus of many of these incidents. Coincidence? You decide.)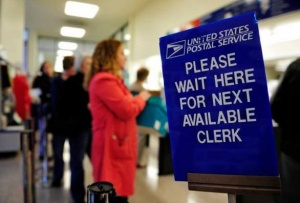 An old man who speaks little English is trying to send a registered letter to Albania. This incenses today's conspiracy theorist who helpfully informs everyone else within earshot, "That's the oldest scam ever. They get you to fill it out for them and then later, they go, 'Oh, I don't know!'" It's unclear what this scam could accomplish but the old man leaves to fill out his envelope, and it appears that the time for our theorist to elaborate has passed.
But that doesn't stop him. "That's like the Federal Building in Chicago." ("That's like" is a segue favored by the conspiracy theorist, obviating the need for any real connection between subjects.) No one looks at him. He takes this as a signal to proceed. "You know, the government, nobody lives in DC. There's nobody there, they all live in the federal buildings. You can tell from their license plates."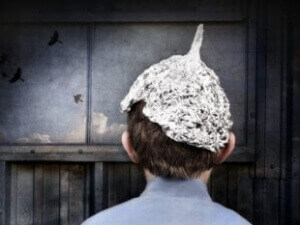 The utter lack of any reaction—in fact, everyone has stopped moving to avoid attracting his attention—urges him onward."The diplomat plates have two lines and three stars. Get it? It's like the donkey. That's why they do that." And here is where our man derails, goes off a cliff, where his sense factory explodes.
"It's like tungsten. Tungsten." He says it a third time. He must like the feel of the word on his tongue. "You know what tungsten is, like spark plugs, they put it in the spark plugs."
His declarations devolve into conspiracy salad. They always do. The ultimate disappointment that follows being stuck in line with a conspiracy theorist is that we'll never know what scam the Albanian was planning or the hidden meaning embedded in diplomatic license plates.
In 2015, Worldwide Weird Holidays created this unofficial holiday to celebrate the quest for truth and the desire not to have to hear about it while in line. Have a happy Stuck in Line with a Conspiracy Theorist Day, if you can. If you know the secret significance of tungsten, please let us know. But first, seek help, because that means you're the conspiracy theorist. We just blew your mind!
Learn a little here:
Moon Landing Faked!!!-Why People Believe in Conspiracy Theories – Scientific American

https://www.worldwideweirdholidays.com/wp-content/uploads/2015/10/stuck-in-line-with-a-conspiracy-theorist-day.jpg
233
310
Kathleen Zea
https://www.worldwideweirdholidays.com/wp-content/uploads/2016/04/WWWH-New-Header-2-e1501022841118.jpg
Kathleen Zea
2017-10-19 11:42:50
2020-11-17 12:29:51
October 19 is Stuck in Line with a Conspiracy Theorist Day