June 12 is National Jerky Day
Today is National Jerky Day, created in 2012 by the Wisconsin Beef Council to bring awareness to the history, nutritional benefits and status of meat snacks as the "fourth-largest-grossing sector in the overall salty-snack category."
For 2014's celebration, Jack Link's beef jerky company built a replica of Mount Rushmore, covered it in 1,600 pounds of jerky and displayed it in New York City's Columbus Circle. They called the monument "Meat Rushmore."
Preserving meat via drying and salting dates back at least as far as Ancient Egypt. It became popular in Spain in the 1500s when conquistadors brought it back from South America. The name "jerky" is derived from the Native American Quechua term "ch'arki" (dried meat).
Today there are hundreds of varieties: turkey, chicken, duck, buffalo, alligator, ostrich, kangaroo, camel, rabbit, python, antelope, rattlesnake, elk, venison, wild boar, alpaca and pheasant in flavors like ginger-lime, ghost pepper, butter mesquite and honey sriracha.
Shark, salmon, tuna and trout are available for pescetarian jerky fans. One purveyor offers gluten-free buffalo and elk jerky. Another offers pineapple jerky for herbivores. (Caution: Manufactured in a plant that processes meat and meat-like  products.)
There's even a variety called Zombie Jerky that is dyed an unpleasant shade of green. From the tone of some reviews, it may, in fact, consist of the undead. The saga of the company's efforts to get its packaging approved is incredible. The USDA found the description of the main ingredient—"naturally occurring zombies"—factually inaccurate, objected to "teriyucki" as a confusing flavor and rejected the assurance that the product is "mutagen-free" and "doesn't turn you into a zombie" as potentially misleading. (Everyone knows mutagens are a tasty side-benefit of jerky!)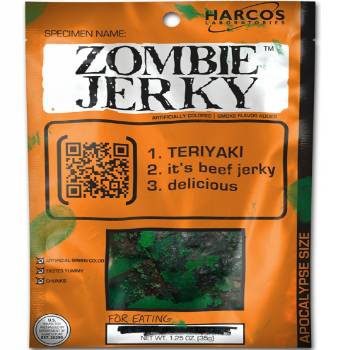 Are you trying to swear off coffee but need a pick-me-up in the morning? Perky Jerky is marinated with guarana seeds, which have twice the caffeine of coffee beans, but is all-natural and therefore healthier for you, right? Well, coffee beans are natural, too, and have the advantage of containing little to no jerky, as far as we know.
A Santa Cruz company has invented marijuana-infused Reef Jerky, which supplies THC and simultaneously cures the munchies it causes. For now, though, you'll have to travel to California to get it.
Even Reef Jerky might not make us hungry enough to try Earthworm Jerky. The only review on Amazon gives it four stars and reads, "These are really crunchy… They don't taste gross but are a bit salty for me…"
Happy National Jerky Day!

https://www.worldwideweirdholidays.com/wp-content/uploads/2016/06/national-jerky-day-meat-rushmore.jpg
350
350
Kathleen Zea
https://www.worldwideweirdholidays.com/wp-content/uploads/2016/04/WWWH-New-Header-2-e1501022841118.jpg
Kathleen Zea
2017-06-12 11:55:23
2020-11-17 12:29:05
June 12 is National Jerky Day