Rockefeller Center Christmas Tree Lighting
The Rockefeller Center Christmas Tree Lighting has become a worldwide symbol of the holiday season. The tree is lit on the Wednesday after Thanksgiving, celebrated with live musical performances at Rockefeller Plaza and broadcast around the globe on television and the internet.
What's the truth behind the legend? Worldwide Weird Holidays investigates.
Tree Story
Oneonta, New York, lost a longtime resident on December 10, 2016: a 14-ton, 94-foot-tall Norway Spruce we'll call Bruce. (They're all named Bruce.) He'd called the town home for nearly a century when the Eichler family contacted Rockefeller Center's head gardener and chief Christmas tree hunter, Erik Pauzé. He visited, liked what he saw and Bruce's fate was decided.
"We'll miss the shade but for the most part we're happy to gain the space back because it did monopolize the entire yard," Craig Eichler said.
On Thursday, Bruce was cut down and loaded with the help of two hydraulic cranes onto a custom-made telescoping trailer that can stretch to 100 feet and accommodate a tree up to 125 feet tall, although the width of New York City streets limits the height to 110 feet.
Bruce was then bound like Gulliver and driven 140 miles to New York City on a route carefully plotted by a committee of local and city planners, under the watchful eye of a police escort.
At his final destination, the same cranes were used to fix Bruce into place by skewering his trunk onto a steel spike. A team of thirty giant-tree specialists attached guy wires to his midsection to hold him upright, then erected scaffolding to assist the workers who would later festoon him with 50,000 lights strung on more than five miles of electrical wire. Since 2007, the tree has been
"green"
(evergreen?), using LED lights and drawing part of its power from a 365-panel solar array installed on the roof.
The Star
Bruce will have a fabulous, if hefty, headpiece. In 2004, the old fiberglass star decorated with gold leaf was replaced by the Swarovski Star, designed by German artist Michael Hammers. It weighs 550 pounds, is 9.5 feet in diameter and sports 25,000 crystals with a million facets. In 2009, Hammers decided to upgrade the star's lighting system by adding 720 tiny white LEDs and 3,000 feet of wire to the star's interior, which were then connected to 44 circuit boards.
That's a lot of look.
History
Although the official Christmas tree tradition began in 1933, the year 30 Rockefeller Plaza opened, the practice began during its Depression-era construction, when workers decorated a twenty-foot-high balsam fir tree with "strings of cranberries, garlands of paper, and even a few tin cans" on Christmas Eve of 1931, according to Daniel Okrent's Great Fortune: The Epic of Rockefeller Center.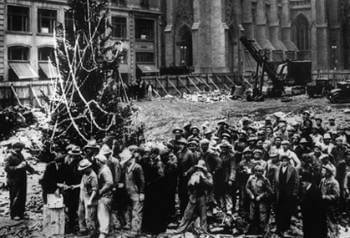 In the above photo, construction workers receive their paychecks next to the Christmas tree they'd set up on the Rockefeller Center site. Pauzé estimates from the number of tree rings that Bruce is approximately 95 years old, so he was likely a sapling in 1931.
Visiting Hours
If you'd like to see Bruce get lit up like a, well, you know, make your way to Rockefeller Plaza between West 48th and 51st Streets and Fifth and Sixth Avenues before 9 pm. Expect a lot of company, many security restrictions and possible rain.
But you won't be allowed to bring umbrellas, backpacks or large bags, according to the New York City Police Department. The streets surrounding Rockefeller Center will be closed from 3 pm until after the ceremony.  Highly armed officers will patrol the area—only as a precaution, of course.
Bruce will be lit until midnight tonight, then from 5:30 am until midnight daily; he is expected to receive up to 750,000 visitors per day. On January 7, 2017, his lights will be doused forever at 8 pm and the process of removing him from his final perch will begin.
His remains will be donated to Habitats for Humanity. Those who benefit will never know how famous their house's sturdy timber once was. I'd like to think that's how Bruce would have wanted it.
Happy holidays!

https://www.worldwideweirdholidays.com/wp-content/uploads/2015/12/rockefeller-center-christmas-tree-lighting-tree.jpg
270
350
Kathleen Zea
https://www.worldwideweirdholidays.com/wp-content/uploads/2016/04/WWWH-New-Header-2-e1501022841118.jpg
Kathleen Zea
2016-11-30 12:55:54
2022-10-15 02:00:26
Rockefeller Center Christmas Tree Lighting