March 6 is National Frozen Food Day
Today is National Frozen Food Day, which honors the pioneering work of Clarence Birdseye. While living in Canada, he learned from the Inuit how to fish through a hole in the ice. He noticed that the day's catch froze almost instantly, tasted fresh and didn't turn to mush like conventional slow-frozen foods when thawed. Convinced he had discovered something revolutionary, he developed a freezing machine and patented it in 1927.
It took time for the world to catch up. Railroads used ice for its refrigeration "reefer" cars and wouldn't accept responsibility for possible spoilage. Markets had no freezers to store to store the fish. Although home refrigerators were available, separate compartments with room for more than a few ice cube trays wouldn't be introduced until 1940. Birdseye ran out of money, sold his company to Postum Cereals and took a job there.
With the financial resources of Post, Birdseye began the painstaking process of convincing the public what a boon frozen food could be to busy mothers and families. In March 1930, he placed display freezers into several stores in Springfield, MA, stocking them with 27 different foods from haddock to spinach.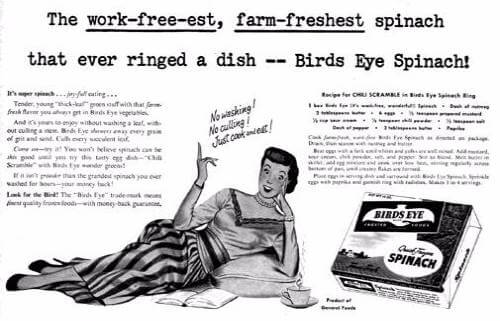 Fifty-four years later, Senate Joint Resolution 193 requested that Ronald Reagan, 40th president of the United States of America, officially designate March 6th as Frozen Food Day. Proclamation 5157 reads, in part:
…The international frozen food industry started in the United States. Frozen vegetables, fruit, meat, and fish were first packaged and offered to consumers in 1930, contributing greatly to the convenience of life and freeing consumers permanently from the cycle of limited seasonal availability of many foods.

Between 1935 and 1940, frozen foods became available to the public on a large scale. During World War II, ration point values posted in stores and carried in newspapers focused public attention on frozen food. Frozen food became a part of the space age when Apollo XII astronauts took frozen meals on board. Seventy-two frozen food items were stored on the Skylab for a five hundred-day supply of meals for the crew…

Now, Therefore, I, Ronald Reagan, President of the United States of America, do hereby proclaim March 6, 1984, as Frozen Food Day, and I call upon the American people to observe such day with appropriate ceremonies and activities.

In Witness Whereof, I have hereunto set my hand this sixth day of March, in the year of our Lord nineteen hundred and eighty-four, and of the Independence of the United States of America the two hundred and eighth.

Ronald Reagan
Happy National Frozen Food Day!

https://www.worldwideweirdholidays.com/wp-content/uploads/2016/03/national-frozen-food-day-birdseye.jpg
321
500
Kathleen Zea
https://www.worldwideweirdholidays.com/wp-content/uploads/2016/04/WWWH-New-Header-2-e1501022841118.jpg
Kathleen Zea
2017-03-06 13:55:50
2020-11-17 12:28:44
March 6 is National Frozen Food Day