Banished Words List Day of 2015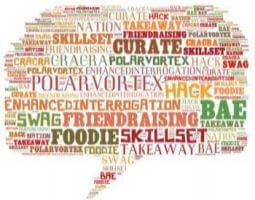 Since 1976, Lake Superior State University (LSSU) has issued an annual List of Words Banished from the Queen's English for Mis-Use, Over-Use or General Uselessness. LSSU accepts nominations for banishment from around the globe, covering all manner of words and phrases worthy of exile.
Without further ado, we bring you the Banished Words List of 2015
Bae
Polar vortex
Hack
Skill Set
Swag
Foodie
Curate/Curated
Friend-raising
Cra-cra (cray-cray)
Enhanced interrogation
Takeaway
____-Nation (sports)
Our Favorites from 2014
Selfie (named Word of the Year by Oxford Dictionary!)
Hashtag
_____ On Steroids
_____ –Ageddon
_____–Pocalypse
Twerk
Twittersphere
Words and phrases banished in previous years include: Pre-Plan, Quality Time ('85); Conferenced, Free Gift (`88); Infotainment, Forced Relaxation ('89); Minor Emergency Clinic,  A Mind is a Terrible Thing to Waste ('90); My Bad, Talk to the Hand ('98); Metrosexual, Companion Animals ('04); Gitmo, We're Pregnant ('07); Man Cave, Pet Parent ('12).
University officials note that even with this year's focus on elections, most entries do not concern politics. Nominations for the 2016 list roll in via e-mail at a steady pace from the fields of academia, advertising, business, the military, sports, as well as politics.
We can't wait to see the newest entries!

https://www.worldwideweirdholidays.com/wp-content/uploads/2015/12/banned-words-list-day-e1483154271413.jpg
200
255
Kathleen Zea
https://www.worldwideweirdholidays.com/wp-content/uploads/2016/04/WWWH-New-Header-2-e1501022841118.jpg
Kathleen Zea
2015-12-31 00:01:30
2017-08-02 22:29:54
Banished Words List Day of 2015