December 4 is Santa's List Day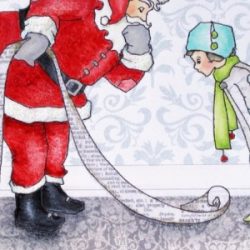 Today is Santa's List Day. According to legend, it's the day when Kris Kringle finalizes his list, double checks it for accuracy and puts the elves to work manufacturing gifts for children who've toed the line of acceptable behavior within their age groups.
Times have changed at the North Pole. Nowadays many parents and mental health specialists view "naughtiness" as a label that is damaging to a child's self-esteem. As a result, elves must crank out even more toys as lumps of coal gather dust in a nearby warehouse. (Santa's workshop runs on solar power.)
Even the most well-behaved child might take the news that Santa has locked in his list as a sign that anything goes for the next three weeks. It's a risky move; although Santa has refused to grant access to journalists, it's quite possible that he employs tech-savvy elves who scan social media and halt the assembly line in cases of egregious misconduct.
There's no way to know if workers are capable of making an XBox One. Unlike most sweatshop labor forces, elves have 11 months of the year to learn to make new things. Hopefully, they get a little time to relax and sip a mai tai at a resort that caters to diminutive people. (Keebler Beach, perhaps?)
If the workshop sources more complex items from Amazon like everyone else, the turnaround time is shortened and, theoretically, bad behavior can be punished on short notice. In the age of Amazon Prime's free shipping service, will Santa shut down operations and put the reindeer out to pasture?
With Arctic ice melting at an alarming rate, it won't be long before elves implement a Kickstarter campaign to buy a houseboat for Santa. Just for today, kids can show their appreciation for Santa's dedication by being good to the extent required of them. Those expecting a big item like a computer or a drone should consider holding off on melting Barbies or setting the family hamster on fire until December 26th.
Happy Santa's List Day!
#buyahouseboatforSanta

https://www.worldwideweirdholidays.com/wp-content/uploads/2016/12/santas-list-day-e1480871477325.jpg
250
250
Kathleen Zea
https://www.worldwideweirdholidays.com/wp-content/uploads/2016/04/WWWH-New-Header-2-e1501022841118.jpg
Kathleen Zea
2016-12-04 12:02:29
2016-12-04 12:42:16
December 4 is Santa's List Day