February 5 is World Nutella Day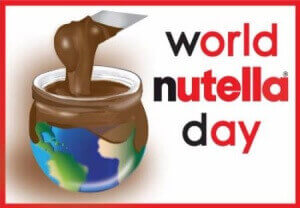 Today is World Nutella Day. It seems pretty straightforward, right? In 2007,  fangirl Sara Rosso declared February 5th a holiday to honor the delicious chocolate hazelnut spread. Nutelladay.com became a place for people to celebrate, swap recipes and share tales of devotion.
As of May 2013, the World Nutella Day Facebook page had 40,000 likes. That's when Ferrero, maker of Nutella, sent Rosso a letter demanding she shut down nutelladay.com and cease all activities relating to the product.
Rosso had been careful to stress that she had no affiliation with the manufacturer. Earlier that year, the site had noted. "Ferrero S.p.A. is not officially involved with World Nutella Day, nor are the organizers compensated by Ferrero in any way for organizing it; World Nutella Day is truly a labor of love for the tasty treat."
Apparently, Ferrero didn't appreciate the free publicity. It ending up receiving much, much more: the story was covered by Bloomberg Business, Time, Adweek, Huffington Post, Observer and Gawker, among many others. The company scrambled to retract its demand and make nice with Russo, asking her to continue running the site.
All's well that ends well—for a while. Ferrero quietly took control of nutelladay.com. Today the site thanks her for starting the holiday and building a global fanbase, then states "In 2015, Sara transferred World Nutella Day to Ferrero (the makers of Nutella) to help it live on and grow for years to come.
"So for 2016, we searched for a new Chief Nutella Ambassador—someone with Sara's delicious devotion—to help us lead the fans for this upcoming World Nutella Day." They chose a 21-year-old college junior who bought her first jar of  Nutella when she was a freshman. So she's fairly new to the love of Nutella. Not that there's anything wrong with that.

https://www.worldwideweirdholidays.com/wp-content/uploads/2016/02/world-nutella-day-e1486086057188.jpg
277
400
Kathleen Zea
https://www.worldwideweirdholidays.com/wp-content/uploads/2016/04/WWWH-New-Header-2-e1501022841118.jpg
Kathleen Zea
2017-02-05 13:55:35
2021-10-08 11:18:23
February 5 is World Nutella Day