June 29 is National Waffle Iron Day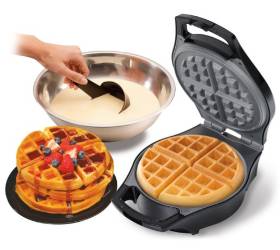 Today is National Waffle Iron Day, a holiday that celebrates one of the world's favorite kitchen appliances. Although today's date doesn't appear to have any historical significance and may have been initiated by manufacturers, the story of the waffle iron and its evolution is an interesting one.
The waffle iron's earliest known predecessor is the Medieval fer à hosties, irons used to make communion wafers. Introduced during the 9th-10th centuries, the plates bore images of Jesus and his crucifixion which became imprinted on the wafers during heating.
The Belgian waffle we enjoy today got its start in the 1300s when two metal plates were hinged together and attached to a long pole that made it possible to cook over an open fire without risking burns. The plates often depicted a family's coat of arms or other personally significant images.
In 1869, the first U.S. patent for an "Improvement in Waffle-Irons" was awarded to inventor Cornelius Swartwout, who revolutionized the waffle-making process. He fitted his design, meant for use on a stovetop, with an innovative handle for opening, closing and turning the cast-iron plates, which were joined by a hinge that swiveled in a cast-iron collar.
In 1911, General Electric made a prototype of an electric waffle iron but didn't produce and sell the design until 1918. We've been unable to ascertain the reason for the delay but would guess that the company was perfecting the cooking process to create consistent results while adding safety measures to reasonably avoid fire hazards. (We say "reasonably" because this was a time when consumers were expected to take responsibility for common sense precautions and wouldn't, say, sue G.E. if they left the iron on all day and burned down the house.)
Prize for the most creative use of a waffle iron goes to Nike co-founder Bill Bowerman, an Oregon track coach trying to create a lightweight sole with excellent traction. Sometime in 1970, Bowerman was inspired by the waffles his wife had made for breakfast. He commandeered the waffle iron and filled it with melted urethane. Although Bowerman forgot to grease the iron and it glued shut, he persevered and the profit from the sneaker empire he created was more than enough to replace the family waffle iron.
To celebrate today, you don't need to invent anything more involved than your choice of waffle toppings. Just grab a napkin and have a yummy National Waffle Iron Day!

https://www.worldwideweirdholidays.com/wp-content/uploads/2016/06/national-waffle-iron-day.jpg
250
280
Kathleen Zea
https://www.worldwideweirdholidays.com/wp-content/uploads/2016/04/WWWH-New-Header-2-e1501022841118.jpg
Kathleen Zea
2017-06-29 11:55:50
2017-06-20 13:53:08
June 29 is National Waffle Iron Day