INTERNATIONAL CAPS LOCK DAY

Today is INTERNATIONAL CAPS LOCK DAY, celebrated on June 28 and October 22 each year. Derek Arnold created the unofficial holiday in October 2000 to bring attention to those who abuse the caps lock key and, by extension, everyone who receives their emails, texts, and Internet screeds.
Arnold claimed he had a higher purpose in mind, stating:
International Caps Lock Day is in fact a testament to the small mindedness of certain Western individuals: the majority of the world's population writes in scripts which have no concept of letter casing. Therefore it is advised to laugh at anyone who invokes this day as an excuse to dismiss local typographical conventions: they are simply making an ass out of themselves.
That's a lofty goal, but we suspect its popularity has more to do with the joy of hitting the caps lock key and capitalizing with impunity.
With the rise of the Internet has come the evolution of netiquette, which dictates that writing in capital letters is considered shouting: boorish, rude and aggressive. Although many protest this reading, it has become an accepted interpretation of the practice.
Why do we celebrate this twice a year? Arnold added the second iteration to honor Billy Mays, the beloved pitchman who said everything in capital letters, who died on June 28, 2009.
Looking for the easiest possible way to celebrate? If you use Chrome, there's an extension for that. Designed by Baptiste Candellier, on each holiday, it will make you unable to type in lower case and display almost every web page in upper case.
Or download Billy Mays Caps Lock by John Haller, another fan of the infomercial king. When you hit the Caps Lock key, you'll hear Billy Mays say:
"Hi, Billy Mays here!"
"It'll make your whites, whiter!"
"Order right now and we'll double the value!" or
"Here's how to order!"
When we first observed this holiday on October 22, 2015, we had a few niggling observations about capslockday.com: the site's HTML listed the title as "internetonal caps lock day home page" and the page itself featured a photo of Billy Mays captioned, "GOOD NIGHT, SWEAT PRINCE." Arnold also stated he was on SNAPCHET, which we can only assume is a social media network for country western music fans, and pointed out the caps lock key with the description "AT THE BOTTOM, WHERE IT SAY CASP LOCK."
While we realize that correcting grammar and spelling is considered annoying by many these days, we can't help but wonder: here are two holidays predicated upon the notion of irritating everyone else, yet there is no International Editors' Day? THAT AIN'T ISN'T RIGHT.
On November 3, 2015, we noticed that the site had been taken down. With the help of the Wayback Machine, we captured the archived page. The Internet is forever….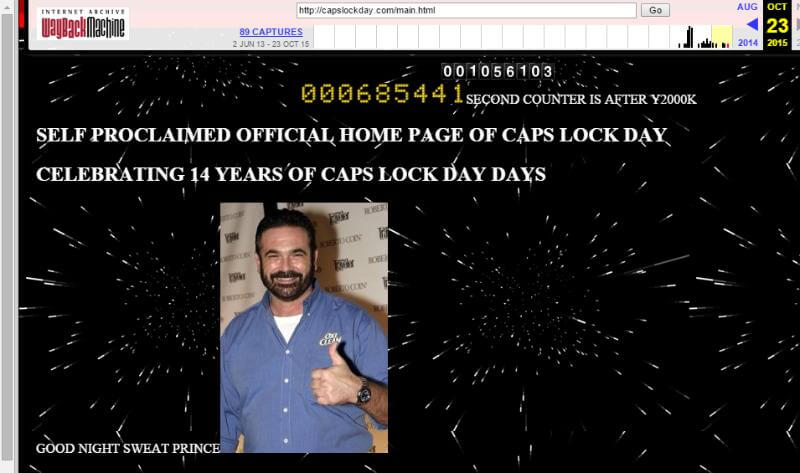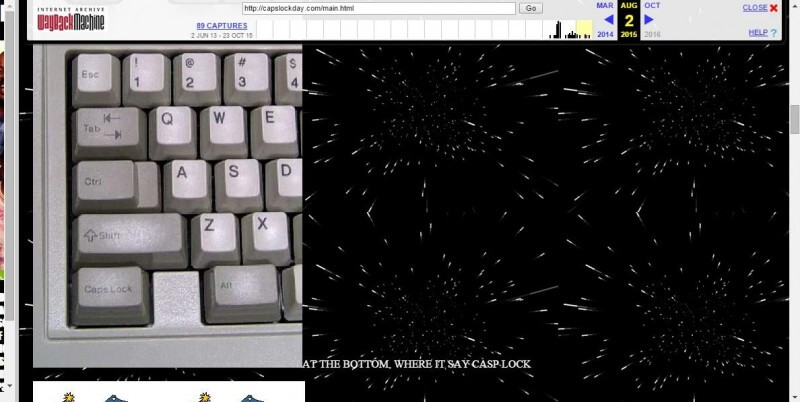 HAPPY INTERNATIONAL CAPS LOCK DAY, EVERYBODY!

https://www.worldwideweirdholidays.com/wp-content/uploads/2015/10/international-caps-lock-day-bullhorn-e1445453161124.jpg
544
652
Kathleen Zea
https://www.worldwideweirdholidays.com/wp-content/uploads/2016/04/WWWH-New-Header-2-e1501022841118.jpg
Kathleen Zea
2017-06-28 11:00:30
2022-10-15 14:27:17
INTERNATIONAL CAPS LOCK DAY