June 30 is Social Media Day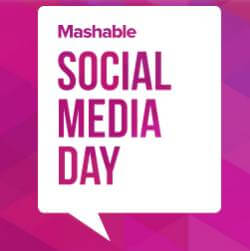 Today is Social Media Day, created in 2010 by Mashable "to recognize and celebrate social media's impact on global communication." (In related news, we just found out Mashable still exists!)
You might be thinking, "Wait just a goldarned minute! Isn't every day Social Media Day?" The answer is yes, but rein in the potty-brained self-talk, please.
Today is momentous because it pays tribute to social media outlets such as Facebook, Twitter, Instagram, SnapChat, Tumblr, YouTube, Pinterest, LinkedIn, Quora, Vine, WhatsApp and others, some of which hadn't been invented seven years ago.
We would be foolish not to mention Google+. Google is everywhere and knows everything: It's like SkyNet met the Matrix and learned it's better to keep us all alive in a continuous biofeedback loop of consumption than to crush our bones into dust.
One of today's festivities is the "tweetup," where people who follow each other on Twitter get to meet IRL. That stands for In Real Life, which we figure can't be cool anymore since we know it. How awkward might it be to have a conversation that hasn't been condensed into 140 characters?
From 2016's #SMDay page:
From Kanye's Twitter rants to DJ Khaled's Snap Stories, you can say social media has us feeling #blessed. Join Mashable, Splash and feedfeed as we celebrate the seventh-annual Social Media Day in NYC! We'll have food, drinks, music and other surprises. Don't get #FOMO, and RSVP now!
Hashtag, pound sign, count us in! Happy Social Media Day!

https://www.worldwideweirdholidays.com/wp-content/uploads/2016/06/social-media-day.jpg
251
250
Kathleen Zea
https://www.worldwideweirdholidays.com/wp-content/uploads/2016/04/WWWH-New-Header-2-e1501022841118.jpg
Kathleen Zea
2017-06-30 11:55:55
2021-10-08 12:02:58
June 30 is Social Media Day