August 8 is Happiness Happens Day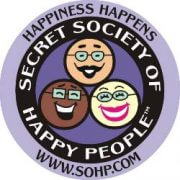 Today is Happiness Happens Day.
Spiritual seeker and motivational speaker Pamela Gail Johnson founded the Secret Society of Happy People in 1998. The following year, she created Admit You're Happy Day, the holiday which evolved into Happiness Happens Day. In 2000, she declared August Happiness Happens Month.
Per Johnson, even though she is blessed with "happy genetics" that help her naturally see the brighter side of things, she wanted life to be happy all of the time.
"What I learned was that, although you can't be happy all of the time, you can be happy most of the time. You just need to recognize more of the happiness that's already happening."
Johnson has identified 31 types of happiness to help us reinterpret and enjoy all the happy moments we mistakenly classify as neutral happenstance.
A few of the types are Anticipation, Awestruck, Balanced, Hopeful, Nostalgic and Relieved. Print out the Happiness Counter to keep score throughout the day.
Remember that happiness is contagious. If you're happy, tell someone. If someone else is happy, listen to him or her. Exceptions to that rule could be made during a prison visit, funeral service or after your best friend washes out of clown college. Use your judgment.
Happy Happiness Happens Day!

https://www.worldwideweirdholidays.com/wp-content/uploads/2016/08/happiness-happens-day.jpg
250
250
Kathleen Zea
https://www.worldwideweirdholidays.com/wp-content/uploads/2016/04/WWWH-New-Header-2-e1501022841118.jpg
Kathleen Zea
2017-08-08 11:05:58
2022-04-15 00:30:17
August 8 is Happiness Happens Day