August 9 is National Veep Day
Today is National Veep Day. On August 9, 1974, Richard Nixon became the first (and only) U.S. president to resign from office.
Vice President Gerald Ford assumed the office in accordance with Article II, Section 1, Clause 6 of the U.S. Constitution: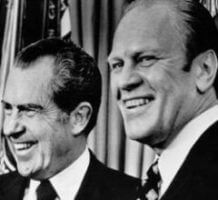 In Case of the Removal of the President from Office, or of his Death, Resignation, or Inability to discharge the Powers and Duties of the said Office, the Same shall devolve on the Vice President, and the Congress may by Law provide for the Case of Removal, Death, Resignation or Inability, both of the President and Vice President, declaring what Officer shall then act as President, and such Officer shall act accordingly, until the Disability be removed, or a President shall be elected.
As president, Gerald Ford immediately issued a pardon for all crimes Nixon "committed or may have committed" while in office. Meet the new boss, same as the old boss.
Happy National Veep Day!

https://www.worldwideweirdholidays.com/wp-content/uploads/2016/08/national-veep-day-e1470797278634.jpg
200
218
Kathleen Zea
https://www.worldwideweirdholidays.com/wp-content/uploads/2016/04/WWWH-New-Header-2-e1501022841118.jpg
Kathleen Zea
2017-08-09 11:45:46
2017-08-02 23:16:19
August 9 is National Veep Day