March 5 is St. Piran's Day
Today is St. Piran's Day, which honors the death of the patron saint of Cornish tin miners. According to legend, Saint Piran was born in Ireland in the fifth century, traveled to Rome to study the scriptures and was made a bishop upon his return.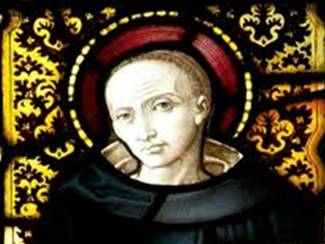 The miracles he performed, such as raising soldiers from the dead, caused alarm and bought him a one-way ticket off a cliff with a millstone tied around his neck.
He didn't sink into the sea but floated upon it to Perran Beach in Cornwall, where he built a chapel among the sand dunes. People from miles around flocked to hear him preach and witness his miracles.
It's said that he discovered tin in Cornwall when a black stone upon which he'd built a fire leaked white fluid. The Cornish flag of St. Piran pays tribute to this story with its white cross on a black background, signifying tin flowing from the stone and good conquering evil.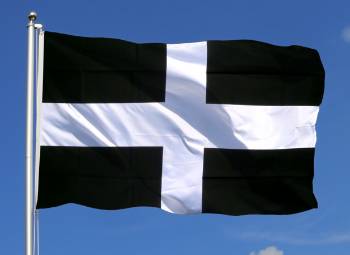 According to Reverend William Haslam's 1844 book, Perran-Zabuloe: With an Account of the Past and Present State of the Oratory of St. Piran in the Sands:
At length…worn out with age and infirmity, St. Piran called his followers around him, and, having addressed them for the last time, desired a grave to be prepared. He then took leave of them, and, descending into it with calmness, his spirit departed on the 5th day of March, about 480.
There is also a folktale that St. Piran's body was exhumed and chopped up into pieces that were sent to churches for their reliquaries. Other accounts say he lived over 200 years, liked to drink and died by falling down a well. We have been unable to confirm or refute any of these stories.
A highlight of the St. Piran's Day festivities is the World Pasty Championships. A traditional Cornish pasty is solely composed of beef, potatoes, turnips, onion and seasoning covered in a pastry crust which is crimped on the end and baked. Variations will be allowed during the competition.
Eden Project, an educational charity sponsoring the contest, has devised this Google map of pasty-related noshes around the globe.
The Cornish Pasty Association reports that the pasty became popular with miners in the 1800s. Tinners had no break to come to the surface so their wives had to make something that could easily be carried, held and eaten in the depths of a mine. Some say the crimped edge acted as a handhold, thrown out to prevent fingers covered with poisons like arsenic from contaminating the food. Others argue that pasties were wrapped in muslin or paper so that every bit could be eaten.
This day will culminate in the Trelawney Shout. At 9 pm in pubs across Cornwall, participants will sing the Cornish anthem, The Song of the Western Men, written in 1824 by Robert Stephen Hawker. Brush up on the lyrics and raise a glass to St. Piran and the men and women of Cronwall.
Happy St. Piran's Day!

https://www.worldwideweirdholidays.com/wp-content/uploads/2016/03/st-pirans-day-image.jpg
244
325
Kathleen Zea
https://www.worldwideweirdholidays.com/wp-content/uploads/2016/04/WWWH-New-Header-2-e1501022841118.jpg
Kathleen Zea
2017-03-05 13:55:19
2023-03-14 12:39:35
March 5 is St. Piran's Day