September 19 is International Talk Like a Pirate Day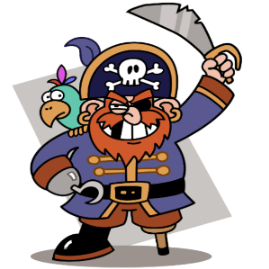 Today is International Talk Like a Pirate Day.
On June 6, 1995, John Baur and Mark Summers were playing racquetball when one decided it would be amusing to shout encouragement to the other using pirate slang. Soon the two were trading pirate-speak with every swing. Afterward, they agreed the game had been especially entertaining and that time had seemed to pass quickly.
On the spot, they created a new national holiday, Talk Like a Pirate Day, but needed to choose a new date since June 6 marks the anniversary of World War II's D-Day. Mark suggested September 19, his ex-wife's birthday. They agreed that Dave Barry, a world-famous humor columnist, would be the perfect mouthpiece. Then they dropped it.
Each year, they celebrated the holiday only because their buddy Brian Rhodes had added it to his computer calendar and reminded them when it was coming up. In 2002, John stumbled upon Dave Barry's email address, and the guys decided to ask him to be the spokesperson for the big day.
To their surprise, Barry answered that it was a great idea and wrote a column about it. The response was so strong that within months, the guys had been interviewed on Irish radio and traveled to Sydney, Australia, to discuss it. Talk Like a Pirate Day instantly became an international holiday.
Baur and Summers have turned out a total of five books. Their website includes tips on how to pick up a pirate, talk like a German or Dutch pirate, and mix grog like a, well, you know. It describes a party game called Snapdragon that entails lighting a pan of alcohol-soaked raisins on fire, reaching in, grabbing one and eating it while it's still burning. (Is the winner the one who requires the most skin grafts or the fewest?)
Visitors will also find links to two Talk Like a Pirate Day songs, a translator, a pirate name generator, the ITLAPD Facebook fan page, as well as information about local participation. Per the site, Krispy Kreme will give a free glazed donut to anyone who talks like a pirate today, a dozen to those who dress like pirates. Long John Silver's will give a free piece of Alaskan whitefish to customers who talk like pirates while ordering, and a free 2-piece fish or chicken basket to those who dress and talk like pirates.
People planning to take advantage of one of those offers should make sure they have the correct date. Pirate talk and garb may not be so well-received on another day of the year.
Happy International Talk Like a Pirate Day!

https://www.worldwideweirdholidays.com/wp-content/uploads/2016/09/international-talk-like-a-pirate-day.png
269
269
Kathleen Zea
https://www.worldwideweirdholidays.com/wp-content/uploads/2016/04/WWWH-New-Header-2-e1501022841118.jpg
Kathleen Zea
2017-09-19 11:04:30
2022-10-15 12:46:39
September 19 is International Talk Like a Pirate Day