On November 23, 1963, the BBC aired the first episode of its new science fiction series about a mysterious man and his time machine. (Why did it look like a British police box? Because its chameleon circuit jammed after it landed in 1960s England, of course.)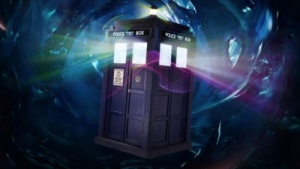 No one could have predicted that Doctor Who would go on to be the longest-running science fiction television show in history. The original pilot was deemed unwatchable, scrapped and reshot, delaying the premiere by a week.
By the time the retooled episode, An Unearthly Child, made it to air on November 23, 1963, it was overshadowed by the assassination of President Kennedy, which had occurred the day before.
But Doctor Who eventually found an audience, especially after the introduction of the Daleks. More than half a century later, it is still popular with millions of loyal viewers. William Hartnell was the First Doctor to hop aboard the TARDIS, which stands for Time and Relative Dimension in Space.
From the start, it was established that a Gallifreyan Time Lord can only regenerate twelve times. That would have made Peter Capaldi the last. Some fans insist the rule was nullified during Matt Smith's tenure. Others maintain that John Hurt's character was the forgotten regeneration between Paul McGann and Christopher Eccleston, which meant Capaldi was the Thirteenth Doctor.
It would seem the debate has been settled by Chris Chibnall, the show's new head writer, who announced, "After months of lists, conversations, auditions, recalls, and a lot of secret-keeping, we're excited to welcome Jodie Whittaker as the Thirteenth Doctor.
"I always knew I wanted the Thirteenth Doctor to be a woman and we're thrilled to have secured our number one choice." The canon-busting season will begin airing in the autumn of 2018.
We celebrate TARDIS Day because Doctor Who continues to entertain us with its steadily expanding universe, at once strange and strangely familiar. It's also created a legion of Whovians, fans who seek each other out, bond over their love of the show and debate about who is the best Doctor, the worst villain, or even how many Doctors Who there have been.
Find some great ways to celebrate TARDIS Day here. Find the Doctor Who episode that fell on your birthday on Tardis.com. Catch up on Doctor Who on Netflix. (Then learn about efforts to recover lost episodes discarded by the BBC.)
Happy TARDIS Day!

https://www.worldwideweirdholidays.com/wp-content/uploads/2015/11/TARDIS-Day-featured-e1479480021263.jpg
250
250
Kathleen Zea
https://www.worldwideweirdholidays.com/wp-content/uploads/2016/04/WWWH-New-Header-2-e1460735734106.jpg
Kathleen Zea
2017-11-23 11:00:43
2017-11-20 22:44:29
November 23 is TARDIS Day