November 13 is Sadie Hawkins Day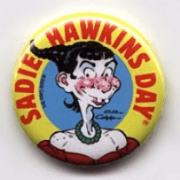 Today is Sadie Hawkins Day, an American rite-of-passage for generations of teenagers. Misogynistic, antiquated and awkward for all involved, the Sadie Hawkins Dance supposedly empowers girls to switch gender roles and ask out the boys. Did we mention it's misogynistic and antiquated? The true origin is much, much worse.
Sadie Hawkins was a character created in 1937 by Al Capp in a cartoon called Li'l Abner, set in the fictional hillbilly town of Dogpatch, Kentucky. Sadie was the "homeliest gal in all them hills." She waited in vain for a suitor to show up at her door, but not a single prospective husband came a-courting. After fifteen years, Sadie was in full panic mode and her father didn't want to support a spinster daughter for the rest of her life.
After fifteen long years, Sadie's dad decided to get creative. He called all the unmarried men of Dogpatch together and declared it Sadie Hawkins Day. The town's bachelors would run for their lives with Sadie in hot pursuit. The "lucky" man she caught would have to marry her. As her Pappy explained, "Th' one she ketches'll be her husbin."

The rest of the spinsters in Dogpatch (how many were there?) thought the race was an excellent idea and made Sadie Hawkins Day a mandatory yearly event, much to the chagrin of the bachelors in town, who had no say in the matter.
The Sadie Hawkins Dance appeared in the strip sometime later, taking place the night before the race. The spinsters wore hobnail boots to stomp on the feet of the single men, potentially making them easier to catch in the next day's race.
The Li'l Abner comic strip debuted in 1934. From the start, it was bawdy and filled with sexual innuendo, not to mention scantily-clad, pneumatically-chested women. But it was apparently considered wholesome family fare. In 1939, Life magazine ran a story stating that 201 colleges were celebrating Sadie Hawkins Day.  By 1952, it was reportedly celebrated at over 40,000 different locations. Capp wrote of the phenomenon:
It's become my responsibility (to include Sadie Hawkins Day every year in the strip). It doesn't happen on any set day in November; it happens on the day I say it happens. I get tens of thousands of letters from colleges, communities, and church groups, starting around July, asking me what day, so they can make plans.
Eventually, it evolved into an all-day event that occurs during the second week of November.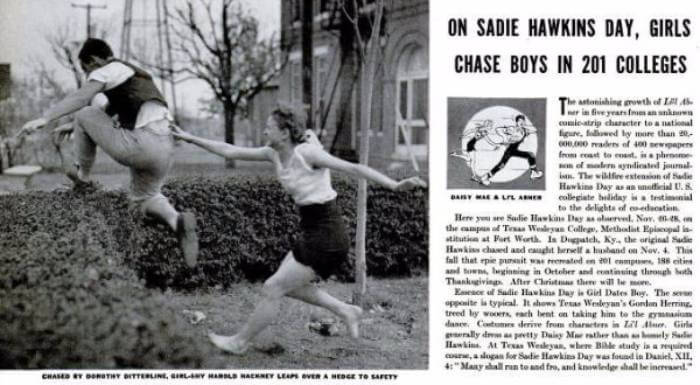 Li'l Abner was an enormous success for its creator, who grew rich from merchandising and movie deals, product tie-ins and a short-lived TV puppet show. In the 1960s, he underwent an ideological transformation from New Deal Democrat to hippie-hater and close friend of Richard Nixon. He became a highly paid speaker on the college campus lecture circuit. His routine was to insult and provoke his audience into a shouting match.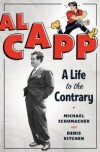 Capp attempted to use his fame to "seduce" young women. The biography Al Capp: A Life to the Contrary characterized him as something of a failed serial rapist since the few women who reported him to the authorities always got away. (Capp had lost one of his legs as a boy and routinely removed his prosthetic leg along with his pants.) One would-be victim described tipping him over like a floor lamp, as he crashed into the hotel furniture.
Of course, grotesque slapstick aside, there was nothing funny about his sexual assaults on young women. In 1971, Capp succeeded in physically forcing a 20-year-old Wisconsin college student to perform oral sex on him. To her credit, and against overwhelming pressure, the student pressed charges.
Capp was not charged with rape, but with three lesser counts: indecent exposure, sodomy and "attempted adultery." He was only found guilty of the latter. Although his career and reputation never recovered, he continued to publish the Li'l Abner comic strip until 1977. He died two years later.
Sadie Hawkins Day is not what it seems. She wasn't a real person. It has nothing to do with women's emancipation. Who uses the word spinster? What do you think? Does it matter what its origin is if no one realizes it—or cares, for that matter? Should it continue to be celebrated or be retired?

https://www.worldwideweirdholidays.com/wp-content/uploads/2015/11/sadie-hawkins-day.png
209
207
Kathleen Zea
https://www.worldwideweirdholidays.com/wp-content/uploads/2016/04/WWWH-New-Header-2-e1501022841118.jpg
Kathleen Zea
2018-11-13 14:00:11
2022-05-22 13:16:24
November 13 is Sadie Hawkins Day