September 16 is World Play-Doh Day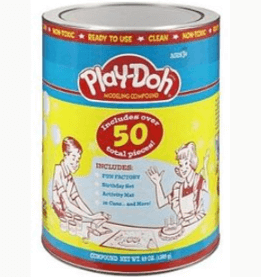 Today is World Play-Doh Day. On September 16, 2006, Hasbro created National Play-Doh Day to honor its 50th anniversary. In 2015, it kicked the unofficial holiday up a notch by going global. Today we celebrate the 61st anniversary of Play-Doh and the third World Play-Doh Day.
Noah McVicker of Cincinnati-based soap manufacturer Kutol Products invented the stuff in 1933 for Kroger Grocery, which requested a non-staining, reusable product to clean coal residue from wallpaper. (He cribbed the putty's recipe—boric acid, mineral oil, flour, water and salt—from homemakers who had been whipping up their own since some time in the 19th century, but never mind.) Kroger was happy and the company flourished for several years.
During World War II, the production of planes, ships, and motor vehicles increased the demand for fuel. Oilfields in Texas and Oklahoma pumped out so much that very little gasoline or diesel had to be imported. According to the U.S. Census Bureau, between in 1945 and 1960, the number of cars on U.S. roads increased by 60 percent.
Why does this matter? With the increased availability of low-cost fuel, gas- and oil-fired forced air furnaces began to replace the dirty, labor-intensive coal furnace. Less soot translated to lower profits for Kutol Products. The introduction of washable vinyl wallpaper in 1947 dealt the business another blow. By the mid-1950s, it teetered on the edge of bankruptcy.
Kutol hired Joe McVicker, Noah's nephew, to save the company from insolvency. Joe's sister-in-law Kay Zufall mentioned to him that she used the cleaner as a cheap toy for kids in the nursery school she ran. He took her advice to add coloring and remove the detergent, then decided he would call it "Kutol's Rainbow Modeling Compound."
Kay talked him out of it; her husband Bob helped her come up with the name "Play-Doh." They received no credit or payment. Kay said that making children happy was thanks enough. Due to her influence, schools across Cincinnati bought the product but Kutol quickly ran out of new customers. With no money for marketing, Joe convinced Bob Keeshan, better known as Captain Kangaroo, to use Play-Doh once a week on his show in exchange for two percent of sales.
Since then, Play-Doh formula has passed through many hands over the years and now belongs to Hasbro. Although it won't reveal any ingredients other than salt, water and flour, Hasbro's 2004 U.S. patent for "starch-based modeling compound" shows it contains water, a starch-based binder, a retrogradation inhibitor, salt, lubricant, surfactant, preservative, hardener, humectant, fragrance, color, borax and a petroleum additive to make it feel smooth.
Its high salt content reportedly won't hurt curious children who take a nibble, but it can be toxic and potentially fatal to a pet that eats a stomachful of it.
*****
There is a way to evoke happy childhood memories without carrying a lump in your pocket: Play-Doh cologne. Demeter Fragrance Library, the maker of such classic scents as Lobster and Funeral Home, has distilled the essence of Play-Doh.
Don't be surprised if the scent inspires an admirer to pull on your pigtails. (Apparently, little boys used to do that to little girls they liked, but we can't find anyone who's seen or done it.) Guys, it's unisex, so if you spritz it on, don't be surprised if someone pulls on your man-bun.
Happy World Play-Doh Day, everybody!
PS: For a funny look at this holiday, including a PG-13 Captain Kangaroo legend, check out Happy World Play-Doh Day on Magick Sandwich.

https://www.worldwideweirdholidays.com/wp-content/uploads/2016/09/world-play-doh-day-e1474057506490.png
277
261
Kathleen Zea
https://www.worldwideweirdholidays.com/wp-content/uploads/2016/04/WWWH-New-Header-2-e1501022841118.jpg
Kathleen Zea
2017-09-16 11:55:27
2020-11-17 12:29:50
September 16 is World Play-Doh Day