March 2 is Read Across America Day
Read Across America Day was proposed in 1997 by the National Education Association (NEA) and adopted the following year. March 2nd was chosen to celebrate the birthday, in 1904, of Theodor Seuss Geisel, better known as Dr. Seuss, one of the most beloved children's book authors in history.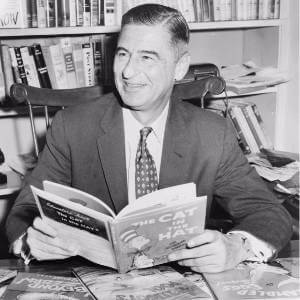 Geisel worked as a cartoonist and ad man for Standard Oil while he was establishing himself as an author and illustrator. His first children's book, And to Think That I Saw It on Mulberry Street, was reportedly rejected 27 times before it was published in 1937.
During World War II, he collaborated with Chuck Jones, Friz Freleng and others on an animated film series called Private SNAFU. He also scripted propaganda films including Your Job in Germany, directed by Frank Capra.
A 1954 Life magazine article by John Hersey, author of Hiroshima, suggested Dr. Seuss could create a fun-to-read educational book using the limited vocabulary required for new readers. Fun with Dick and Jane, a primary school book at that time, was so boring that it seemed to actively discourage literacy, as anyone who had to read it (or teach it) can attest.
It took him until 1957 to finish The Cat in the Hat, using only 236 different words. It was an instant hit and continues to be a classic children's book. In 1960, he topped himself with Green Eggs and Ham which features only 50 unique words:
a, am, and, anywhere, are, be, boat, box, car, could, dark, do, eat, eggs, fox, goat, good, green, ham, here, house, I, if, in, let, like, may, me, mouse, not, on, or, rain, Sam, say, see, so, thank, that, the, them, there, they, train, tree, try, will, with, would, you
Geisel wrote and illustrated 44 children's books and wrote many more featuring other people's artwork before his death in 1991. Publisher's Weekly's most recent global sales figures, from 2000, count 25 Dr. Seuss titles among the top 189 (selling 750,000 hardcovers or more) All-Time Bestselling Children's Books.
While searching for Seuss/Geisel quotes, we noticed something odd. Many of them just don't seem like things he would say. As it turns out, he didn't. It's nearly impossible to know, in this age of cut-and-paste cannibalism, who is responsible for misinformation. Who cares?
Professor Philip Nel cares. We stumbled upon his invaluable post, "Oh, the Quotations You'll Forge!" on the subject of ersatz Seuss sayings. Nel has taught graduate courses on the work of Dr. Seuss. His blog, Nine Kinds of Pie, has a wealth of information, including a 1952 essay published in the New York Times Book Review  in which Geisel skewered racist humor and explained his assertion that adults are "obsolete children."
Dr. Seuss had a flair for tall tales and embellishment, dedicating one book to a non-existent daughter but we think he would approve of our proposal: Don't Believe Everything You Read Across America (Especially on the Internet) Day.
UNLESS someone like you
cares a whole awful lot,
nothing is going to get better.
It's not.
—The Lorax
Have a happy Read Across America Day!

https://www.worldwideweirdholidays.com/wp-content/uploads/2016/03/read-across-america.jpg
300
300
Kathleen Zea
https://www.worldwideweirdholidays.com/wp-content/uploads/2016/04/WWWH-New-Header-2-e1501022841118.jpg
Kathleen Zea
2017-03-02 13:55:29
2022-04-28 01:37:13
March 2 is Read Across America Day