Worldwide Candle Lighting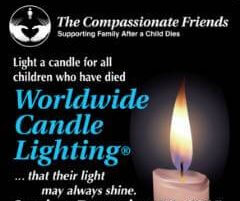 The Worldwide Candle Lighting ceremony is held each year on the second Sunday of December. It was created by The Compassionate Friends (TCF), a non-profit organization that assists grieving families.
Stephen Simmons, a chaplain at England's Warwickshire Hospital, founded TCF in 1969. After bringing together two sets of grieving parents, he realized the support they gave one another was better than anything he could provide.
The group grew as word of it spread around the globe. In 1978, it crossed the ocean and was incorporated in Illinois. The first Worldwide Candle Lighting took place there in 1997. 
The annual observance unites family and friends to remember sons, daughters, brothers, sisters, and grandchildren gone too soon. Participants light candles from 7:00 to 8:00 p.m. local time.
Considered the largest mass candle lighting on the planet, the Worldwide Candle Lighting produces a virtual 24-hour wave of light as it moves from one timezone to the next. Hundreds of formal events are conducted while thousands of families meet in private to honor the memories of departed loved ones and express gratitude for the time they shared.
TCF and allied organizations are joined by local bereavement groups, churches, funeral homes, hospitals, hospices, children's gardens, schools, cemeteries, and community centers. Services have ranged in size from just a few people to nearly a thousand.
If no Worldwide Candle Lighting service was held near you last year and you'd like to hold one, TCF invites you to use its Suggestions to Help Plan a Memorial Service in Conjunction with The Compassionate Friends Worldwide Candle Lighting© to help you organize an event. Submit the information to the TCF website so it can add your service to the many others held in the U.S. and around the world.
The Worldwide Candle Lighting encourages bereaved families everywhere to "light a candle for all children who have died…that their lights may always shine."

https://www.worldwideweirdholidays.com/wp-content/uploads/2015/12/Worldwide-Candle-Lighting-e1480363485665.jpg
201
240
Kathleen Zea
https://www.worldwideweirdholidays.com/wp-content/uploads/2016/04/WWWH-New-Header-2-e1501022841118.jpg
Kathleen Zea
2016-12-11 13:55:46
2018-07-31 23:02:30
Worldwide Candle Lighting