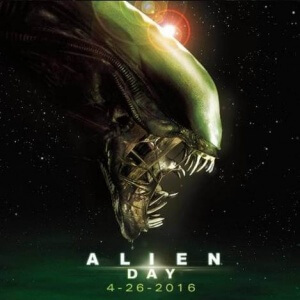 Today is Alien Day. The date 4/26 pays homage to LV-426, the planet where Ripley and her expendable crew set down and take on a stowaway that no amount of Pepcid-AC can overcome. By the time the monster surprises Dallas with a gesture that looks suspiciously like jazz hands, it's clear that the entire crew will indeed be expended.
Ripley and Jonesy, the luckiest cat in the universe, escape after a run-in with the alien, who has hidden in a shuttle so inefficiently designed that it has wasted space in the exact proportions of a slavering hell creature.
In the sequel, Aliens, Ripley returns to LV-426–as an advisor, that's all–with the Colonial Marines and Burke, Carter J., a company man and (spoiler alert) not an okay guy, after contact is lost with the Weyland-Yutani employees working there. Suffice it to say there are problems and a few deaths are involved.
Alien³ and Alien: Resurrection take place on a penal planet and the USM Auriga spaceship, respectively. Prequel Prometheus occurs on LV-223, another moon in the same star system.
Director Ridley Scott's sequel to his prequel will be called Alien: Covenant and is scheduled for release October 6, 2017. Scott has issued this description:
Bound for a remote planet on the far side of the galaxy, the crew of the colony ship Covenant discovers what they think is an uncharted paradise, but is actually a dark, dangerous world — whose sole inhabitant is the "synthetic" David (Michael Fassbender), survivor of the doomed Prometheus expedition.
At the end of Prometheus, David and Elizabeth (Noomi Rapace) survived. What's happened to her? The films have always had a strong female lead. We hope Scott's planning to keep it that way.
Meanwhile, Neill Blomkamp has been working on Alien 5, but that's only the working title, since it appears that he plans to dropkick Alien³  and Alien: Resurrection and pick up where Aliens left off.
Many fans of the early movies are happy about this prospect. Unfortunately, Scott has "asked" Blomkamp to delay his movie until after Alien: Covenant opens.

Blomkamp has been sharing concept art since last year which shows Hicks and Ripley very much alive. He released this pic of Newt this morning in honor of Alien Day.
Can fans trust him to bring the series back to life? Will we get the director of District 9 or the one who made Chappie? Will Scott's wishes put Blomkamp's plans into permanent hypersleep? Stay tuned and have a happy Alien Day!

https://www.worldwideweirdholidays.com/wp-content/uploads/2016/04/alien-day.jpg
468
469
Kathleen Zea
https://www.worldwideweirdholidays.com/wp-content/uploads/2016/04/WWWH-New-Header-2-e1501022841118.jpg
Kathleen Zea
2016-04-26 13:10:20
2020-11-17 12:27:08
April 26 is Alien Day