National Hairball Awareness Day
Today is National Hairball Awareness Day, observed annually on the last Friday of April.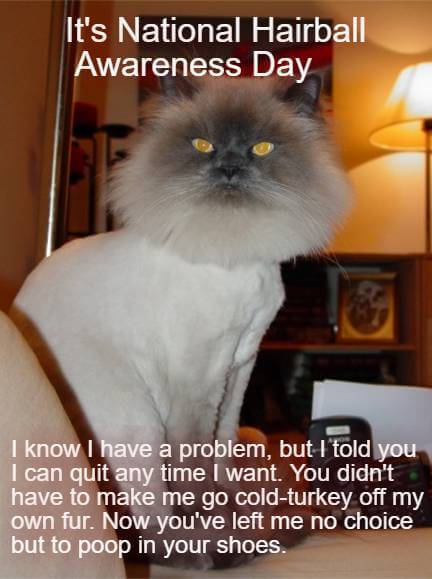 Hairballs are a nuisance and just plain gross, as anyone who's stepped on one in bare feet can attest. They're no fun for cats, either, causing discomfort and irritation. In some cases, they can be an indicator of serious illness. Talk to your veterinarian to learn more, and be sure to brush your pets often and keep your home clean to prevent dust and other particles from adhering to their fur, where they can be ingested.
P.S.: We're not advocating the nuclear option you see above for every pet. Rocky, the cat shown here, hated to be brushed but for some reason enjoyed the shearing process. His groomers always remarked on how mellow he was and charged much less for his visits. Despite his dyspeptic look, Rocky loved his lion cut. We'd even say he rocked it!
Have a safe and happy National Hairball Awareness Day!
More cat holidays:
Respect Your Cat Day – March 28
Cat Herders' Day – December 15
National Cat Day – October 29

https://www.worldwideweirdholidays.com/wp-content/uploads/2016/04/National-Hairball-Awareness-Day.jpg
579
432
Kathleen Zea
https://www.worldwideweirdholidays.com/wp-content/uploads/2016/04/WWWH-New-Header-2-e1501022841118.jpg
Kathleen Zea
2016-04-29 13:39:21
2020-11-17 10:53:32
National Hairball Awareness Day