April 5 is National Caramel Day
Today is National Caramel Day, one of the most delicious holidays of the year.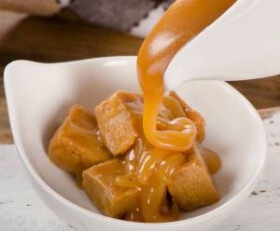 The name has a long history. The English word is cadged from the French caramel, which has roots in 18th-century Spain's caramelo, which in turn dates back to the Late Latin calamellus. The granddaddy of them all comes from the Greek κάλαμος. 
But who really cares about the name? Buy some caramels or make your own caramel sauce. Put a little spice in your life with the salted version. (We don't know who came up with that, but thank you, whoever you are!)
Why not try this recipe?
Salted Caramel Sauce
Ingredients
1 cup white sugar
5 Tbsp. butter, cut into slices
1/2 cup heavy cream
1 Tbsp. heavy whipping cream
1 pinch sea salt to taste
Directions
Prep time:5 minutes
Cook time: 20 minutes
Place sugar in a heavy-bottomed saucepan set over medium-high heat. Stir continuously until sugar begins to melt. Continue stirring until the sugar melts completely, begins to darken and all the chunks are dissolved, about 10 minutes. Stop stirring and continue to cook until the sugar begins to smoke and turns a dark shade of amber, 3 to 8 minutes. Remove from heat and wait 30 seconds.
Whisk in butter until melted and combined. Slowly pour in 1/2 cup plus 1 tablespoon cream, taking care not to let it bubble over. Sprinkle in salt and stir to combine. Transfer sauce to a jar and cool completely before refrigerating.
Maybe you'd prefer a tasty libation instead:
Salted Caramel Martini
Ingredients
2 Tbsp. grated chocolate
Sea salt
2 Tbsp. caramel sauce
6 ounces Bailey's Caramel Irish Cream
Instructions
Grate chocolate with cheese grater and place in circle larger than glass on a piece of parchment.
Add a dash of salt to the chocolate.
On another piece of parchment put a circle of caramel sauce.
Dip glass into caramel, then dip into chocolate.
Refrigerate glass to chill.
Pour Bailey's Caramel flavored Irish Cream into a shaker with ice to chill.
Pour into cold glasses. Serves 2.
However you decide to celebrate it, have a happy National Caramel Day!

https://www.worldwideweirdholidays.com/wp-content/uploads/2016/04/national-caramel-day-e1459997343239.jpg
231
280
Kathleen Zea
https://www.worldwideweirdholidays.com/wp-content/uploads/2016/04/WWWH-New-Header-2-e1501022841118.jpg
Kathleen Zea
2017-04-05 11:55:19
2020-11-17 12:28:53
April 5 is National Caramel Day