July 14 is National Hot Dog Day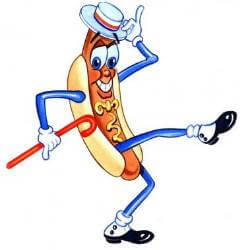 Today is National Hot Dog Day, according to the National Hot Dog and Sausage Council (NHDSC), an august body created by the North American Meat Institute, which has declared July to be National Hot Dog Month.
The NHDSC serves as a clearinghouse of information about the preparation and nutritional quality of hot dogs and sausages, funded by contributions from manufacturers and their suppliers.
National Hot Dog Day was established in 1991 to coincide with the Annual Hot Dog Lunch on Capitol Hill in Washington, DC. As a result, the holiday's date is dictated by the congressional calendar and typically occurs in the third or fourth week of July.
Because of the 2016 Republican and Democratic national conventions, the lunch was rescheduled to today. Many hot dog franchises have chosen to celebrate the holiday on July 23rd, because last year's National Hot Dog Day fell on that date.
With the support of many holiday calendar websites, July 23rd's observance may stick around. But hot dog lovers and NHDSC aren't complaining. In National Hot Dog Month, does it matter?
Ten percent of all hot dogs are purchased in July, according to Janet Riley, NHDSC's "Queen of Wien."
Here are a few more stats:
In 2015, nearly 1 billion pounds of hot dogs were sold in retail stores, adding up to more than $2.5 billion in sales.
From Memorial Day to Labor Day, Americans consume 7 billion hot dogs. That's 818 hot dogs eaten every second during that period.
The NHDSC predicts that major league ballparks will sell 18.5 million hot dogs during baseball season this year.
Los Angeles was last year's top hot dog consuming city: Angelenos ate more than 34 million pounds. New York took second place, followed by Phoenix, Philadelphia, Boston, Atlanta, Detroit, Chicago, Washington, DC and Tampa.
Have a happy National Hot Dog Day!

https://www.worldwideweirdholidays.com/wp-content/uploads/2016/07/national-hot-dog-day.jpg
250
250
Kathleen Zea
https://www.worldwideweirdholidays.com/wp-content/uploads/2016/04/WWWH-New-Header-2-e1501022841118.jpg
Kathleen Zea
2016-07-14 09:01:22
2016-07-20 20:38:06
July 14 is National Hot Dog Day