October 31 is National Magic Day
Everybody knows today is Halloween. But it's also National Magic Day, when members of the Society of American Magicians (SAM) and many other groups celebrate with free magic performances for kids, the ill, elderly and shut-ins.
Why is this holiday celebrated today? In 1938, a Chicago member of SAM proposed a holiday to honor Harry Houdini. October 31st was declared National Magic Day in memory of the day Houdini died.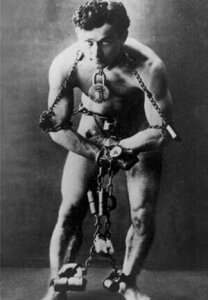 Houdini set the standard for a type of performance known as Escape Or Die. There are at least three possible ways for a magician to risk his life in the event of failure.  These are death by drowning, as in the water escapes Houdini pioneered; death by suffocation, as in escapes from airtight enclosures such as coffins; and death by falling (also originated by Houdini), in a straitjacket escape while hanging from high above the earth, where falling meant certain death.
In 1915, at the Panama-Pacific International Exposition in San Francisco, Houdini was chained in a locked box weighted down with 500 pounds of iron and dropped into the bay. He escaped. To celebrate the fair's centennial, the Palace of Fine Arts, the only building that remains from the exposition, has constructed an "escape room" which challenges all who enter to escape within 80 minutes.
On September 30, 1926, in Worcester, MA, he performed the first public test of an airtight coffin, seeking to prove there were no secret tubes siphoning air to him or other trickery. The Daily Telegram reported that Houdini would be sealed for one hour "in the coffin in which he will be buried when he dies."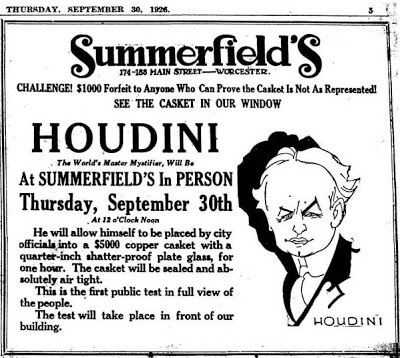 The test went off without a hitch. What no one knew then was that it would become Houdini's casket only one month later, after his death on Halloween 1926.
Houdini wasn't killed by a feat gone wrong; he died of diffuse peritonitis due to acute appendicitis, widely believed to have been caused by a punch to his abdomen on the morning of October 22, 1926. A young man who may have been a college student, an amateur boxer or both decided to test Houdini's boast that he could withstand any blow. The magician later claimed he was injured only because he wasn't given time to prepare by tensing his abdominal muscles.
Research shows it's unlikely that a punch could directly rupture an appendix, even one that's already inflamed. In any case, Houdini mistakenly assumed the pain he suffered afterward was due only to the punch, leading him to refuse medical treatment for what could have been a routine case of appendicitis.
Instead, he continued to perform for two more days until, overwhelmed by pain, he agreed to be hospitalized. The surgeon who removed his appendix found it had burst, spreading peritonitis throughout Houdini's body. The odds were against him in the days before antibiotics, but he held on and endured another surgery, seeming to rally before finally slipping away on October 31st at the age of 52.
Ten years later, his wife Bess held what she called The Final Houdini Séance on the roof of the Knickerbocker Hotel. Supposedly, she had a compact with her late husband to contact her within ten years. There's nothing to substantiate that. It appears that Bess wanted the subject of communicating with Harry to be closed. After her husband did not reappear,  she wrote:
Since the failure of the ten-year test, it is my opinion that all concerned have struck a mighty worldwide blow at superstition.
There is a recording of the séance or, more likely, a theatrical reading of the transcript which was released as an album. On it, Bess says, "It is finished."
She couldn't have been more wrong. The "final" séance spawned dozens of Halloween Houdini séances that continue to this day. Some bill themselves as "official." As Houdini himself would tell you, that's impossible. One thing's for sure: If séances work, then Mr. Houdini's phone is ringing off the hook right about now.
*****
P.S. Houdini was well known for his hostility to the Spiritualism movement so popular in his day and attempted to discredit so-called mediums at every turn. (He had tried to contact his dead brother and father as a young man and was embittered by the experience.)
So it seems a bit odd that he befriended Arthur Conan Doyle, who was a fervent believer in psychic phenomena. Each sought to convert the other until Doyle's wife Jean offered to contact Houdini's mother shortly after her death.
He agreed, wanting to believe it was possible.  During the séance, Jean went into a trance while holding a pencil and jotted a message from Houdini's mother through a method known as "automatic writing." Houdini took the note, saying nothing about the fact that his mother had never learned to read or write and, in any case, spoke no English.
He went public soon after, saying that he didn't believe the Doyles were being intentionally deceitful. They were simply gullible. Doyle responded by saying the language of the spirit is universal. Their friendship never recovered.
Read more about Houdini's amazing exploits. Honor his skepticism of mediums and con artists, while experiencing the childlike wonder of a magic show. Have a happy National Magic Day!

https://www.worldwideweirdholidays.com/wp-content/uploads/2015/10/national-magic-day.jpg
252
320
Kathleen Zea
https://www.worldwideweirdholidays.com/wp-content/uploads/2016/04/WWWH-New-Header-2-e1501022841118.jpg
Kathleen Zea
2017-10-31 07:55:18
2021-10-08 10:38:14
October 31 is National Magic Day