November 12 is Guinness World Records Day
Today is Guinness World Records Day, when hundreds of thousands of people around the globe will try to make it into the famous book.
Editor-in-Chief Craig Glenday said, "Guinness World Records Day unites people across the planet from all walks of life, all of whom have one common goal – to become the greatest in the world at something."
While today's records are now being set, let's take a look at a few recent successes.
Skateboarding Dog
In Lima, Peru, a skateboarding bulldog named Otto passed through 30 pairs of legs, earning him the Guinness World Record for Longest Human Tunnel Traveled Through by Skateboarding Dog.
Thirty people faced in one direction and stood with their feet apart to allow the three-year-old English Bulldog, to freely pass through the human tunnel without being led or touched.

A crowd gathered to watch the cute canine's record-setting attempt. The video clearly shows that Otto was not simply rolling along. He was steering, leaning and course-correcting with his paws.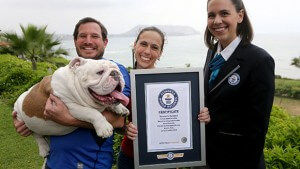 Guinness World Records adjudicator Sarah Cusson witnessed the event and presented Otto and his proud owners Luciana Viale and Robert Rickards with an official certificate. The record has yet to be broken.
Basketball Wizardry
Exhibition basketball team The Harlem Globetrotters celebrated Guinness World Records Day 2015 by achieving seven incredible world record titles at the Talking Stick Event Arena in Arizona, USA.
Farthest Kneeling Basketball Shot Made Backward–60 feet 7.5 inches (18.47 meters)
 Longest Underhand Basketball Shot–84 feet 8.5 inches (25.81 meters)
 Longest Basketball Shot Made Blindfolded–69 feet 6 inches (21.18 meters)–Thunder Law

Furthest Blindfolded Basketball Hook Shot–50 feet 3.5 inches (15.32 meters)–Big Easy Lofton

The Globetrotters also set records for Most Basketball Three Pointers Made by a Pair in One Minute, Longest Duration Spinning a Basketball on the Nose (7.7 seconds) and Most Basketball Slam Dunks in One Minute (19).
Find these and many more basketball world records here.
Stunt Parking
On November 12, 2015, Alastair Moffatt successfully reversed a classic Mini Cooper into a parking space, leaving a combined distance of just 34 centimeters between his car and the vehicles in front and behind.
Pedal to the floor, Alastair performed a dramatic J-turn, then a hand brake turn, to slot into an almost impossibly small space and break one of the most competitive records in the stunt driving field:
Tightest Parallel Parking in Reverse

An on-site official confirmed that Moffatt bested the previous record of 35 centimeters by 1 centimeter. (That is less than 13.39 inches!) The video is short, amazing and definitely worth watching.
Puppy Love
Let's bookend the fun with another talented pooch. Purin, a nine-year-old Beagle, earned her place in the 2015 Guinness Book of World Records when she "saved" 14 mini soccer balls, smashing her previous record of 11.
Most Balls Caught by a Dog with the Paws in One Minute 
She also holds the record for Fastest 10 Meters Traveled on a Ball by a Dog, after she balanced on an inflated ball and crossed the finish line in 11.9 seconds.

Check out thousands more records in the Guinness Book of World Records 2016 print edition, on its official website and YouTube page. Have a chart-bustingly great day!

https://www.worldwideweirdholidays.com/wp-content/uploads/2015/11/guinness-book-of-world-records-day-harlem-globetrotters-furthest-kneeling-e1447343553800.jpg
413
300
Kathleen Zea
https://www.worldwideweirdholidays.com/wp-content/uploads/2016/04/WWWH-New-Header-2-e1501022841118.jpg
Kathleen Zea
2016-11-12 07:55:23
2020-11-17 12:27:23
November 12 is Guinness World Records Day