International Fanny Pack Day
March 12, 2016, is International Fanny Pack Day. Nick Yates, who founded the holiday in 2007, drew inspiration from an experience he'd had a few years earlier.
Yates had received a fanny pack and fruitcake as gag gifts at a Christmas party in Portland, Oregon. Lured by its practicality and convenience, he strapped on the pack and stuffed the foil-wrapped cake inside when he left.
While walking to the bus stop, he encountered a homeless man who said, "Nice fanny pack, chief." Yates replied, "Thanks," unzipped the bag, handed him the food and continued on his way.
As Yates recalls, he was half a block away when the man unwrapped the foil and shouted, "A f***ing fruitcake?"
Although many would consider this just one more harsh (and humorous) critique of fruitcake, Yates made a connection between the fanny pack and helping the hungry. He began to give out food—but no more fruitcake—while wearing the pack.
He continued the tradition after moving to Boise, Idaho, coordinating efforts with friends and local food banks. In 2007, he declared the second Saturday of March to be International Fanny Pack Day. Since then, the holiday has been observed in seven countries.
Dig that fanny pack out of the back of your closet and wear it with pride while you help those in ne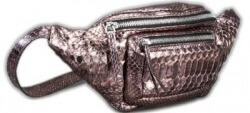 ed. Or go totally upscale with British designer Tess Van Ghert's $1,000 python "valet bag."
Be the first one on your block—or outside the carnival—to wrap a snake around your middle.
But if you wear it in England, be sure to call it a "hip pack," "bum bag" or anything else. There, "fanny" is slang for a woman's privates.
If you require more convincing that this is a fine sartorial option, check out this awesome song by Koo Koo Kanga Roo!
Happy International Fanny Pack Day!

https://www.worldwideweirdholidays.com/wp-content/uploads/2016/03/international-fanny-pack-day-e1457819370112.jpg
250
250
Kathleen Zea
https://www.worldwideweirdholidays.com/wp-content/uploads/2016/04/WWWH-New-Header-2-e1501022841118.jpg
Kathleen Zea
2016-03-12 16:16:46
2021-10-08 12:48:49
International Fanny Pack Day