October 15 is Global Handwashing Day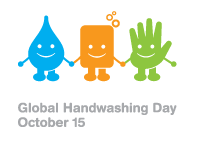 Today is Global Handwashing Day. We know, we know: eww! When it comes to that ill-advised hot dog wolfed at a highway rest stop, we are all like Mulder on the X-Files: we want to believe. That counter's clean, the food freshly prepared by people who treat every day as handwashing day. So this must be one of those silly made-up holidays. Right? Why are we still talking about this?
Global Handwashing Day was founded in 2008 by The Global Public-Private Partnership for Handwashing to raise awareness of how proper hygiene can prevent disease transmitted by hand.  Here's a tweet promoting the holiday and the graphic embedded in it.
Why #GlobalHandwashingDay? B/C 1 trillion germs can live in 1 gram of poop (abt weight of a paper clip)! http://bit.ly/1JUaOrD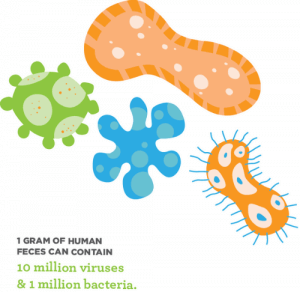 Wait a minute. The numbers in the tweet and its graphic don't match. Although I think we can all agree that either number is unsettling, we feel it's our duty to get to the bottom of this. Who knew that researching this would end up in such a dark place?
Okay, now that we've gotten our juvenile punning (mostly) out of the way, let's learn a little bit about the strangers in our poop. According to a study cited by the Centers for Disease Control, a gram of feces can contain a total of 1 trillion germs. So the tweet is right. Reporting of the number of viruses and bacteria, however, varies wildly. You might want to take our word for it. The Google search alone will make you want to douse yourself in hand sanitizer (which, by the way, isn't as effective as you might think.)
Now that you've got a face full of feces facts, here's a dollop more. A German site called my.microbes aims to be the first social network to connect members with similar microbial profiles to "share experiences, remedies, health and diet tips." Watch out, Match.com!
If you've got your mind on your manure and your manure on your mind, track your output with the PoopLog app. According to the developer, he updated it to include the ability to attach photos because "it is the most requested feature from my users." PoopLog allows you to track your bowel movements using the Bristol Stool Scale.
The Bristol Scale was devised in England and is very, well, descriptive. Click here to view it but maybe not when you're eating sausage. We're not showing it here because we don't want to support poop porn. We will show you this enthusiastic review of PoopLog, though: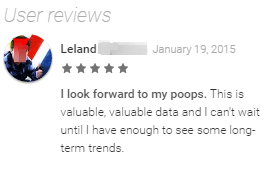 Leland, we wish you the best in your turd analysis. Perhaps Places I've Pooped might be a useful app for you, too. Just a quick word of advice: turn off the flash when you take a shelfie™* in a public place, which we fervently hope is a restroom. The uninformed might frown on you taking a photo of what came from your posterior for posterity.
Now, if you'll excuse us, we're going to go wash our hands. We may never stop.
*sh– + selfie: don't make us spell this out

https://www.worldwideweirdholidays.com/wp-content/uploads/2015/10/global-handwashing-feces-facts.png
486
500
Kathleen Zea
https://www.worldwideweirdholidays.com/wp-content/uploads/2016/04/WWWH-New-Header-2-e1501022841118.jpg
Kathleen Zea
2017-10-15 09:21:31
2022-04-07 11:30:26
October 15 is Global Handwashing Day