February 26 is Levi Strauss Day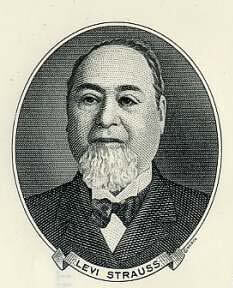 Today is Levi Strauss Day. It celebrates the birthday on February 26, 1829, of the man who invented blue jeans with a little help from his friends.
Strauss, born Löb Strauß, grew up in Bavaria, Germany, where he, his family and his community faced discrimination because they were Jewish. They paid extra taxes and were only allowed to live in certain areas.
In 1847, after his father died of tuberculosis, 18-year-old Strauss and his mother and two sisters traveled to the U.S. and joined his two older brothers in New York City, where they had opened a dry goods business. He worked there through 1852.
He moved to San Francisco in 1853 to capitalize on the influx of miners hoping to strike it rich. The California Gold Rush, begun in 1849 after a nugget was found during construction of Sutter's Mill, was in full swing. Levi Strauss & Company became a thriving business, selling fabric, clothing and other goods.
In 1872, Strauss received a letter from Jacob Davis, a tailor who had found a way to make pants constructed from Strauss' sturdy cloth even more durable, by affixing metal rivets on the pockets and the fly seam. He couldn't afford the patent application fee. Strauss covered it and they received the patent the following year.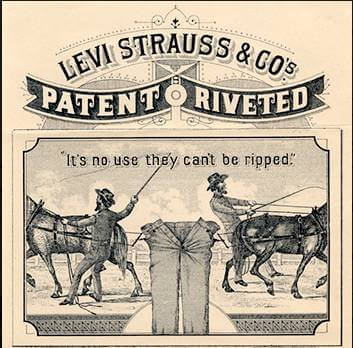 Strauss never doubted their "waist overalls" would be a huge success. They offered two options: pants made of heavy "duck" canvas or blue denim. By 1911, the company phased out canvas altogether.
Why did miners overwhelmingly choose what would come to be known as blue jeans? According to Jude Stewart, author of ROY G. BIV: An Exceedingly Surprising Book About Color, it has a lot to do with the dye process.She posted on Slate, "Unlike most natural dyes that, when heated, penetrate cloth fibers directly, indigo binds externally to the cloth's threads, coaxed by a chemical agent called a mordant.
"With each washing some of these dye molecules are stripped away, taking bits of the threads with them. The process softens rough fabrics and individualizes the color. This extreme customization––plus the fact that jeans could be 'shrunk to fit'––made every pair a second skin."
Historian Lynn Downey added: "Once someone had worn a pair of denim pants, experiencing its strength…and how the denim became more comfortable with every washing…he never wanted to wear duck again; because with cotton duck, you always feel like you're wearing a tent."
Strauss helped finance the first synagogue in San Francisco and contributed to various charities, especially those benefitting orphans. As his company grew more successful, Strauss was able to expand his generosity even further by funding many scholarships for students applying to the University of California.
Strauss brought his nephews into the company—he had no children—and groomed them to take over for him. He stayed on as president until his death on September 26, 1902, at the age of 73. The basic jeans that bear his name have changed little since.*
*You may have noticed the rivet beneath the fly is gone. According to legend, cowboys squatting near campfires got crotch burns when the metal overheated. In reality, it was eliminated due to the World War II mandate to conserve metal. The back pocket rivets were removed in the 1950s after complaints they scratched furniture.
Levi's are arguably the most famous pants on the planet. Happy Levi Strauss Day, everybody!

https://www.worldwideweirdholidays.com/wp-content/uploads/2016/02/levi-strauss-day-ad.jpg
348
353
Kathleen Zea
https://www.worldwideweirdholidays.com/wp-content/uploads/2016/04/WWWH-New-Header-2-e1501022841118.jpg
Kathleen Zea
2017-02-26 13:55:00
2020-11-17 12:28:28
February 26 is Levi Strauss Day