January 29 is Curmudgeons Day
Today is Curmudgeons Day, which celebrates the birth, in 1880, of comedian, writer, drinker and self-professed curmudgeon W.C. Fields.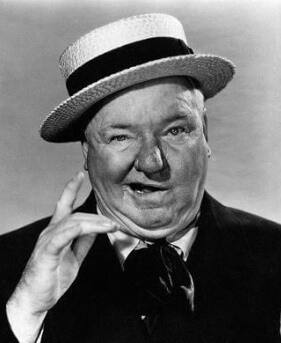 William Claude Dukenfield grew up in Philadelphia, PA, a city that later became the butt of many of his jokes. While this is true, many other aspects of his origin story are difficult to substantiate.
He adopted the name W.C. Fields as a vaudevillian in 1898 and took delight in recounting a tragic personal history. Fields allegedly ran away from home after his alcoholic father beat him over the head with a shovel, ending up sleeping in a hole in the ground, stealing food and clothing to survive, and was often caught and thrown in jail.
At thirteen, he supposedly got a job as a juggler on a pier in Atlantic City, NJ. When business was slow, he would feign drowning at the behest of his employers, who believed the fake rescue they then staged would draw in customers.
Like the best lies, his story had elements of truth. He did sometimes run away from his short-tempered father, but only as far as his grandmother's house. He was developing a juggling act. But at age seventeen, he was living at home and performing it at church and local theaters.
In actuality, Fields did begin his career in vaudeville and took his stage name in 1898. (He specialized in pretending he'd lost the items he was juggling.) But his family supported him and saw him off on his first tour.
By the early 1900s, he was a headliner in the U.S. and Europe and was often referred to as the world's best juggler. He toured Australia and South Africa in 1903. By 1904, Fields had become so successful that he bought his father a summer home and enabled him to retire. That's a heck of a way to repay the man who hit your head with a shovel.
He performed at Buckingham Palace and took the stage at the Folies Bergère when Charlie Chaplin was on the docket. Fields wrote and starred in his first film, Pool Sharks, in 1915. He appeared in the Ziegfeld Follies from 1915 through 1921.
In 1923, he made his Broadway debut in the musical "Poppy," then reprised the role two years later in D.W. Griffith's screen adaptation renamed Sally of the Sawdust. By 1944, Fields had made 41 films, including The Bank Dick, My Little Chickadee and Tillie and Gus.
Fields was a staunch advocate of drink and had one in his hand much of the time. (A favorite line: "I certainly do not drink all the time. I have to sleep, you know.") It should come as no surprise that wear-and-tear on his body caused by alcohol finally did him in.
In the early months of 1945, Fields was admitted to Las Encinas Sanatorium in Pasadena, CA. He never left, dying of a gastric hemorrhage almost two years later, on December 25, 1946—the holiday that Fields, an atheist, said he most despised.
He might have gotten a kick out of the fact that he has a medical condition named after him. Rhinophyma, a form of rosacea that causes the nasal tip to redden and become bulbous, is sometimes referred to as "W.C. Fields syndrome" or "whiskey nose."
He would certainly be a fan of Curmudgeons Day. He said so many curmudgeonly things in his life, movie scripts, and in ad libs during filming that a Google search for "W.C. Fields quotes" returned 633,000 results. We recommend you make a snack before you dive in. You're going to be online for a while. Here are a few to whet your appetite:
"Start every day off with a smile and get it over with."

"If at first you don't succeed, try, try again. Then give up. No use being a damned fool about it."

"I am free of all prejudices. I hate everyone equally."

"Children should neither be seen nor heard from, ever again."

"I never vote for anyone. I always vote against."

"I do if they're properly cooked." — (when asked if he liked children)
One frustrating element of Curmudgeons Day is its stubborn resistance to punctuation. Should we read it as a mere grammatical error? Is it written this way by a curmudgeon to irritate other curmudgeons (and the odd English major?) We'll let you decide.
Happy Curmudgeons Day!

https://www.worldwideweirdholidays.com/wp-content/uploads/2016/01/curmudgeons-day-wc-fields-e1454102613395.jpg
343
281
Kathleen Zea
https://www.worldwideweirdholidays.com/wp-content/uploads/2016/04/WWWH-New-Header-2-e1501022841118.jpg
Kathleen Zea
2017-01-29 13:55:27
2022-04-28 17:28:59
January 29 is Curmudgeons Day