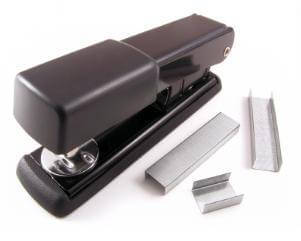 March 14, 2016, is Fill Our Staplers Day, a holiday that occurs twice a year on the day after the shift from Standard Time to Daylight Savings and vice versa, better known as "Spring Forward, Fall Back."
Many people believe Daylight Savings Time was invented by Benjamin Franklin because of his 1784 essay called "An Economical Project for Diminishing the Cost of Light." In it, he described being shocked upon accidentally awakening early in the morning to see that the sun was already up.
After painstaking analysis, he concluded that changing the hour, resetting all clocks, rationing candle wax, enforcing a mandatory curfew and firing cannons at sunup would encourage the citizenry, who would otherwise fail to realize they could simply rise earlier, to take full advantage of daylight.  One wonders if Franklin had to endure the utter lack of understanding of satire so commonplace since the invention of the Internet.
What has that got to do with office supplies? Not much, unless you work by lamplight or in a post-apocalyptic hellscape without electricity, which sounds like the saddest Dilbert cartoon ever. A nice bit of Benjamin Franklin trivia may not get you far at a cocktail party, but it could be the secret handshake that gains you entry into the Dull Men's Club (DMC), originators of the biannual Fill Our Staplers Day.
In 2010, the DMC announced its establishment 0f biannual Fill Your Staplers Days to help spare its members the mild annoyance of discovering they have run out of staples at the last minute before a presentation to their boss, who might have a thing against paperclips. (They know who they are.)
Why has the club designated the day after the time change? "The day clocks change in the spring has been designated as Check Your Batteries Day, " the DMC website explains. "We could designate Fill Your Staplers Day to be that day as well but, when added to changing clocks and checking on batteries — too much to do all in one day. So we'll do it the next day."
That sounds perfectly reasonable to us. Have a happy Fill Our Staplers Day!

https://www.worldwideweirdholidays.com/wp-content/uploads/2016/03/fill-our-staplers-day-1.jpg
241
301
Kathleen Zea
https://www.worldwideweirdholidays.com/wp-content/uploads/2016/04/WWWH-New-Header-2-e1501022841118.jpg
Kathleen Zea
2016-03-14 20:12:03
2022-10-15 15:17:50
Fill Our Staplers Day