Take a deep breath. Air keeps us alive. With the notable exception of anaerobic bacteria, living things need oxygen to survive. Not pure oxygen, mind you. That would be too much of a good thing. Air (usually) has just the right mix of gases and, for that, we owe it a debt of gratitude. If Air were sitting on the barstool next to you, you'd slap it on the back and buy it a drink.
But Air Day doesn't celebrate Earth's unique blend of gases.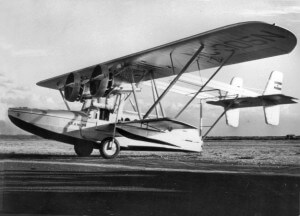 November 11, 1929, was named Air Day by Governor Lawrence Judd to commemorate the first commercial air service flights between the Hawaiian Islands. Two Sikorsky S-38 planes flew from John Rodgers Airport, later renamed Honolulu International Airport, to the Big Island with a stop on Maui. Forty-nine military planes escorted them as far as Diamond Head; six accompanied them all the way to Hilo. 
Four planes were put into service on the route. More than 10,000 passengers flew on Inter-Island Airways in 1930, its first full year of service, an astonishing number considering there were only eight seats on each plane. Cruising at about 110 miles per hour, the flight, including the stop, took about three hours. 
Impressive. We suggest a couple of other air-related festivities worth celebrating.
Air Guitar Day –  Air guitar is a form of dance and movement in which a performer pretends to play a non-existent guitar, including riffs and solos. It requires exaggerated strumming and picking motions and often includes lip-synching.
Air guitar is used to simulate loud electric or acoustic guitar music. The 21st Annual Air Guitar World Championship was held August 26, 2016, in Oulu, Finland. American air guitarist Matt "Airistotle" Burns won first place.
Air Hockey Day– Two players compete to score goals on a special low-friction table. Traditional tables blow a cushion of air through tiny holes onto the surface to increase play speed. Others eschew machinery and use a slick, often plastic, surface to reduce manufacturing costs.
Touchscreen tables are available but are not yet recognized by the United States Airhockey Association, which celebrated its 40th anniversary in October with the 2015 World Air Hockey Championships at the University of Houston, Texas.
Would you like to help make Air Guitar Day and Air Hockey Day official? Use this directory to find the phone numbers of your Congressmen and call now.
Have a happy Air Day!

https://www.worldwideweirdholidays.com/wp-content/uploads/2015/11/Air-Day-Inter-Island-Sikorsky-S-38-e1447267954593.jpg
216
300
Kathleen Zea
https://www.worldwideweirdholidays.com/wp-content/uploads/2016/04/WWWH-New-Header-2-e1501022841118.jpg
Kathleen Zea
2016-11-11 07:55:00
2020-11-17 12:27:23
November 11 is Air Day