November 10 is International Accounting Day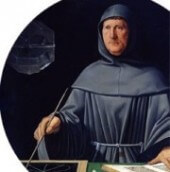 What's so exciting about International Accounting Day? On November 10, 1494, Italian mathematician and Franciscan friar Luca Bartolomeo de Pacioli published "Summa de Arithmetica, Geometria, Proportioni et Proportionalita" (Everything About Arithmetic, Geometry and Proportion).
It included a detailed description of double-entry bookkeeping, called the Method of Venice. Although this technique had been practiced for centuries, Pacioli's treatise was the first of its kind in print and earned him the title of "Father of Modern Accounting."
*****
Many in modern times have followed in Pacioli's footsteps, with varying degrees of success.
Chuck Liddell is a former UFC Light-Heavyweight Champion whose fighting skills have helped make mixed martial arts a mainstream sport. He also is a trained accountant, with a BA in Business and Accounting from California Polytechnic University. No one will be making any "boring bean counter" jokes to him.
Kenny G. is a world-famous saxophonist whose smooth jazz sounds have sold more than 75 million records worldwide. He also graduated magna cum laude from the University of Washington with a degree in accounting, which he credits with helping him manage his finances early on in his career and paving the way for future success.
John Grisham earned a degree in accounting, intending to become a tax attorney. Instead, he decided to pursue criminal law. His first novel, A Time to Kill, was based on evidence he observed at trial. He has written 27 legal thrillers, 9 of which were made into movies, and has over 300 million copies in print.
In 1962, Mick Jagger was studying accounting and finance—on scholarship—at the London School of Economics when he formed the Rolling Stones with Keith Richards and Brian Jones. We think you'll agree that worked out for the best.
*****
Need more proof that accounting is cool? Click here to apply for a job at the FBI! According to the site:
Accountants have been woven into the fabric of the FBI since its creation in the summer of 1908, when a dozen bank examiners were included among the original force of 34 investigators. Today, around 15 percent of agents employed by the Bureau qualify as special agent accountants.
How many are there, exactly? We could tell you, but then we'd have to kill you. (Not really; we just don't know.)
Happy International Accounting Day!

https://www.worldwideweirdholidays.com/wp-content/uploads/2015/11/international-accounting-day-pacioli-e1447109269200.jpg
172
170
Kathleen Zea
https://www.worldwideweirdholidays.com/wp-content/uploads/2016/04/WWWH-New-Header-2-e1501022841118.jpg
Kathleen Zea
2016-11-10 07:55:54
2022-10-15 15:17:48
November 10 is International Accounting Day