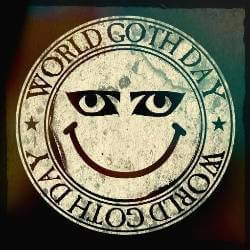 Today is World Goth Day, a holiday that celebrates the global influence of the Goth subculture on music, literature and art.
Many consider the 1979 release of Bauhaus' first single, Bela Lugosi's Dead, to be the genesis of the gothic rock genre, although the word "goth" had been used in a musical context for over than a decade. Bauhaus' contemporaries included Siouxsie and the Banshees, Joy Division, Killing Joke and The Cure.
Goth style has evolved from influences like punk's "anti-fashion" movement and brooding, romantic Victorian mourning clothes. It includes many looks but is most often associated with dark clothing, black hair and extreme facial pallor.
In October 2005, after the opening of Tim Burton's Corpse Bride, the New York Times noted:
The costumes and ornaments are a glamorous cover for the genre's somber themes. In the world of Goth, nature itself lurks as a malign protagonist, causing flesh to rot, rivers to flood, monuments to crumble and women to turn into slatterns, their hair streaming and lipstick askew.
A shout-out from the Gray Lady is impressive, even when it gets things wrong. (Slatterns? You wish!) Influences credited for the rise of Goth include movies from Blade Runner to Beetlejuice, artists from H.R. Giger to Salvador Dali, authors from Mary Shelley to Anne Rice. Punk, New Wave, metal, vampire stories and horror films have all contributed to or benefited from Goth culture.
U.K. deejays DJ Cruel Britannia and martin oldgoth (a lowercase rebel) created World Goth Day in 2009, when BBC 6 radio station ran a day of Goth programming. Brittania wrote of the idea, "I got it into my head that Goth Day was a good enough excuse to encourage goths to have their own Goth 'Public Holiday', so to speak, and celebrate what goth means to them in either their musical tastes, the books they read, or whatever part it plays in their darkly-inclined lifestyle."
In 2015, World Goth Day was immortalized on Angry Birds Seasons The Pig Days Level 4-1. We don't know what that pile of words means but the walkthrough looks fun. Some might find its mix of bats, jack-o-lanterns and ankh symbols offensive, but every goth or punk we've met has had a great, if dark, sense of humor. (Except for one. We're talking to you, Vyvyan.)
For information on events happening near you and other good stuff, head to the holiday's official website.  In 2016, South African band Terminatryx offered a free download of its track SleepWalkers, remixed by iRONic. The song will set you back less than a dollar but we recommend springing for the whole album. We're partial to CONsume, remixed by Martin Degville of Sigue Sigue Sputnik. We know, we know: our Eighties are showing!
Happy World Goth Day!

https://www.worldwideweirdholidays.com/wp-content/uploads/2016/05/world-goth-day.jpg
250
250
Kathleen Zea
https://www.worldwideweirdholidays.com/wp-content/uploads/2016/04/WWWH-New-Header-2-e1501022841118.jpg
Kathleen Zea
2017-05-22 11:55:15
2022-10-15 02:01:22
May 22 is World Goth Day