February 7 is Super Bowl Sunday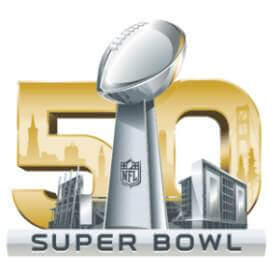 Today is the 50th annual Super Bowl Sunday. At 6:30 pm, at Levi's Stadium in Santa Clara, CA, the Carolina Panthers will battle the Denver Broncos for the Vince Lombardi Trophy, named after the coach who won the first two Super Bowls. The trophy is 22 inches tall, made of sterling silver by jeweler Tiffany & Company, weighs nearly seven pounds and is worth more than $25,000.
A 50th wedding anniversary has long been identified as "golden." (The 25th is "silver," the 75th is "diamond" and so on.) The National Football League (NFL) has gone to great lengths to use the tradition in advertising and logos for Super Bowl 50.
This year, the NFL has suspended its use of Roman numerals to identify the game. (This year's game would have been called "Super Bowl L.") This has enabled it to prominently display "50" (Arabic numerals) on all logos. In addition to the Lombardi trophy, the winning team will receive an 18-karat gold-plated "50" trophy.
According to the Department of Environmental Protection, water usage drops, especially in cities whose teams are playing, rises for a few minutes at halftime, and then peaks after the game as viewers relieve themselves and flush their toilets. 
Super Bowl 50 will be broadcast live in over 170 countries. Last year's game had a record 114.4 million viewers in the U.S. Over the years, it has become famous for its commercials. CBS, broadcaster of this year's telecast, is charging advertisers as much as $5 million for a 30-second spot. That's over $166,666 per second. By contrast, winning players receive $97,000; losers, $49,000. (Still, it's hard to feel sorry for them.)
Fans paid $6 for tickets to the first Super Bowl in 1967. This year, tickets purchased at face value cost $850 to $1,800 while "club seats" that include amenities such as cushioned seats and private bathrooms cost up to $3,000. Suites run from 150,000 to $400,000. According to tracking site SeatGeek, regular tickets to this year's game have been selling on the secondary market for an average of $5,000.
Super Bowl Sunday is second only to Thanksgiving Day in consumption of food and drink. The National Chicken Council estimates 1.3 million chicken wings will be consumed in the U.S., up 3 percent from last year. Domino's anticipates the sale of 12 million pizzas. The National Retail Federation says Americans will spend $15.5 billion on team apparel, decorations and food.
Of course, statistics compiled by companies, councils and federations that benefit from their own hype aren't always reliable. We can't track down the source, reported as fact by many news outlets, that states Americans will drink 325.5 million gallons of beer today. If 114.4 million people watch the game, every viewer—man, woman and child—will have to consume 2.85 gallons of beer.
According to a recent Nielsen Media survey, only 53% of U.S. adults polled said they planned to drink beer during the game. If that's true, then tomorrow should be called World Hangover Day. We predict sales of aspirin will spike.
Happy Super Bowl Day!

https://www.worldwideweirdholidays.com/wp-content/uploads/2016/04/WWWH-New-Header-2-e1501022841118.jpg
0
0
Kathleen Zea
https://www.worldwideweirdholidays.com/wp-content/uploads/2016/04/WWWH-New-Header-2-e1501022841118.jpg
Kathleen Zea
2016-02-07 12:43:03
2022-10-15 15:17:47
February 7 is Super Bowl Sunday