American Fancy Rat and Mouse Show 2016
January 30th is the 2016 American Fancy Rat and Mouse Show, sponsored by the American Fancy Rat and Mouse Association (AFRMA). AFRMA was founded in 1983 to promote the breeding and exhibition of fancy rats and mice, to educate the public about their positive attributes as intelligent, affectionate pets, and provide information on their proper care.
Like the canines in the Westminster Dog Show, the rats and mice that compete today at Woodcrest Community Center in Riverside, CA, must meet high standards of physiology and temperament. Learn about the process with YouTube's "How to Show a Rat" video explainer.
A developmental problem such as "square butt" is grounds for disqualification from the show. It can usually be detected at a young age, which is why AFRMA judges advise breeders, called ratteries, to present their rats and mice for evaluation when they are still kittens. (Babies under nine weeks old are called kittens. Adult females are known as does; males, bucks.)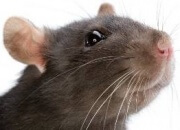 You've probably never considered a rodent–other than the hamster you had as a kid–as a potential pet. Someone we know had a rat named Sid and took him everywhere, including spring break. She insisted we share with you the following fun facts.
Rats are not dirty animals by choice, only by circumstance. They clean themselves many times a day, much like a cat.
Rats are social and affectionate, taking care of sick or injured rats in their group. They become lonely and depressed if they're left alone and make laughing noises when they're having fun. (It doesn't sound like human laughter. That would be so creepy.)
Rats have excellent memories. They can learn tricks and come when they're called, recognizing their own names. (We're talking about the names humans give them, of course. We have no idea what they call themselves.)
Learn more at AFRMA, Rat Assistance & Teaching Society (RATS), The Rat Fan Club, RatChatter, and many other sites. Yahoo group ratlist is accepting applications for membership. No rat haters need apply. Take a moment to see rats anew. Start your own club and start making plans to go to next year's show!

https://www.worldwideweirdholidays.com/wp-content/uploads/2016/01/fancy-rat-and-mouse-show-e1454159937402.jpg
130
180
Kathleen Zea
https://www.worldwideweirdholidays.com/wp-content/uploads/2016/04/WWWH-New-Header-2-e1501022841118.jpg
Kathleen Zea
2016-01-30 08:52:19
2022-10-15 15:15:46
American Fancy Rat and Mouse Show 2016