October 30 is Create a Great Funeral Day
"Funerals are the party no one wants to plan."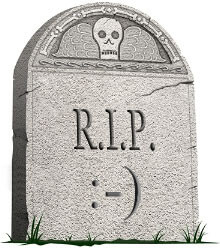 So says Gail Rubin, a death services planner, radio host and leader of the Albuquerque chapter of Death Café. She's been called the Doyenne of Death and liked it so much, she trademarked it. She runs a site called A Good Goodbye – Funeral Planning for Those Who Don't Plan to Die.
It's appropriate, she says, that Create a Great Funeral Day comes right before Halloween and the Day of the Dead. "Before ghosts can go a-haunting and spirits of the deceased can be celebrated, someone's gotta die."
Countless movies and television shows have poked fun at the stress of eulogizing a complete stranger, but how much do we know about our loved ones? Enough to plan the party after they're gone?
Create a Great Funeral Day
This holiday was originated by Stephanie West Allen in 2000 after her mother-in-law died, leaving no instructions for her funeral. Watching her husband struggle to create a meaningful service inspired Allen to write Creating Your Own Funeral or Memorial Service: A Workbook to encourage people to pre-plan their funerals and spare their families that stress.
This book is invaluable in addressing the amount of work involved in organizing a funeral. Many people are unaware of the processes required, including collection, transfer, preparation, choice of cremation or burial, plot, niche or home storage and which type of urn goes with your decor.
Go Wish (just not for more time)
Another, more playful planning tool is Go Wish, a card game developed as a fun way to start a conversation and clarify the end-of-life wishes of the targeted family member. If a relative shows up with this card game, he might know more than you do about your latest MRI results. And he might have his eye on your collection of mint-condition Life magazines.

The Go Wish game is a set of 36 cards and can be played by several people or in "solitaire" mode, which just sounds like the saddest thing ever.  Each card has a short statement that the individual (let's just call him the goner) will rank in order of priority of what's most important to him in his last weeks or months of life.  He can then explain to a possibly imaginary friend or family member why he sorted it the way he did.
The game's maker, Coda Alliance, has tested the game in hospitals, nursing homes, community meetings and elsewhere. A researcher stated, "In one large group, where I emphasized that we did need to collect the packs for re-use, there was nonetheless a 30% attrition rate – a testament to this being a desirable commodity."  Or maybe nursing homes are a breeding ground for degenerate thieves.
Boomers are Doing it for Themselves
While Create a Great Funeral Day was not a big hit when it began, Allen says attitudes are changing, her book is getting less resistance and its readership is growing. Why? "The boomers are doing it. The boomers are the do-it-yourselfers, they had their own way of doing anything, they did their own weddings, they're going to do their own funerals, and that's just now starting, so they're going to have a huge impact."
Boomers: Is the International Cemetery, Cremation and Funeral Association (ICCFA) pandering to you when its site sports a YouTube link to Blue Öyster Cult's 1976 song, Don't Fear the Reaper? Per ICCFA, the song's message is that love endures beyond the grave despite the best efforts of the Grim Reaper, a personification of death from European folklore.  We thought it was just about getting stoned.
Pressing the Flesh
It isn't surprising to learn that 38% of so-called Millennials and 32% of Gen-Xers have tattoos. But you may not have realized that increasing numbers of older people are getting inked, too. A Pew Research study determined that roughly 15% of Baby Boomers (those born between 1946 and 1964) have at least one tattoo.
So what happens to that tattoo when you die? Good news: you don't have to take it with you! When you join the National Association for the Preservation of Skin Art (NAPSA), you'll have peace of mind knowing your tattoo will be harvested from your body within sixty hours of your death and treated with a proprietary blend of chemicals which halts decomposition.
According to NAPSA, this preservation process permanently alters the human canvas, or "raw art." Then the finished piece, which is technically no longer skin and therefore not creepy at all, will be shipped to your lucky loved one. They won't frame it for you, though. Good luck getting that mounted at your local frame shop.
If you'd like someone special to leave his or her tats to you after passing but don't know how to broach the subject of postmortem hide removal, say it with a NAPSA gift certificate. No faces or genitalia, though. They have standards.
Get Started!
Don't wait another day to create a great funeral for yourself. Remember, if you build it, they will come. (Have we mentioned paid mourners? Can't hurt!) Now get out there and have fun!

https://www.worldwideweirdholidays.com/wp-content/uploads/2015/10/create-a-great-funeral-tombstone.jpg
251
220
Kathleen Zea
https://www.worldwideweirdholidays.com/wp-content/uploads/2016/04/WWWH-New-Header-2-e1501022841118.jpg
Kathleen Zea
2017-10-30 07:55:00
2022-04-28 16:58:34
October 30 is Create a Great Funeral Day