Whatever Happened to Visit a Cemetery Day?

Visit a Cemetery Day is supposed to take place on the last Sunday of October each year but the unofficial holiday has vanished without a trace.
The inaugural event in 2010 was intended to create an annual ritual of remembrance, according to organizers mysendoff.com, International Memorialization Supplier Organization (IMSA), Kates-Boylston Publications and American Cemetery Magazine.
By 2012, the founders were so confident in their new tradition that they announced the next Visit a Cemetery Day a year in advance, yet there is no record of it taking place in 2013 or any year since. Where has it gone?
Perhaps it has been forgotten as the industry adjusts to an evolving marketplace. (Check out this TED Talk on the Infinity Burial Suit that uses embedded mushrooms to digest dead flesh and promote "an individual engagement with the process of decomposition.")
American Cemetery Magazine has rebranded itself as American Cemetery and Cremation "to better connect with the expanding readership and better align with the changing dynamics in the death-care profession."
Order a subscription through MortuaryMall.com, where you will also find disaster pouches a.k.a. body bags, cremation pan cooling racks and stainless steel body trays with and without drain holes. If Very Berry spray "neutralizes body decomp odors" as advertised, imagine what it could do for your litter box!
Perhaps the most compelling reason to resurrect Visit a Cemetery Day lies in the game introduced on mysendoff's Facebook page on October 25, 2012:
"For those of you who are planning to introduce children to "Visit a Cemetery Day" we created a Cemetery Search game that is easy to play. Just click on the image and print your own card(s). It's a fun way to start finding out some of the history that can be found in your local cemetery."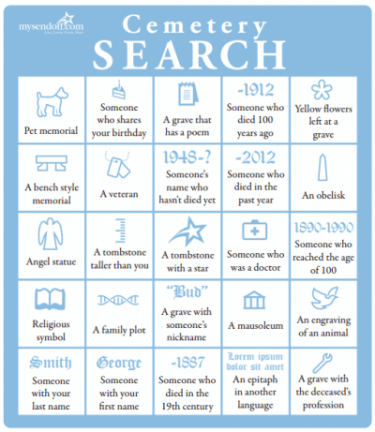 Just in case Visit a Cemetery Day ever comes back from the dead, it may be a good idea to start the therapy fund for your kids now. It's not a terrible thing for children to learn about death—but isn't that what hamsters are for?

https://www.worldwideweirdholidays.com/wp-content/uploads/2015/10/visit-a-cemetery-day-search-card-e1445740305674.png
432
375
Kathleen Zea
https://www.worldwideweirdholidays.com/wp-content/uploads/2016/04/WWWH-New-Header-2-e1501022841118.jpg
Kathleen Zea
2016-10-30 07:45:22
2021-10-08 12:48:24
Whatever Happened to Visit a Cemetery Day?