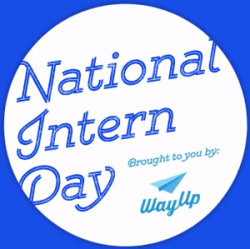 National Intern Day, celebrated on the last Thursday in July, recognizes the hard work and dedication of interns across the country. It was created in 2017 by WayUp, a unique platform that connects college students and recent grads with job opportunities and career advice.
The task of getting an internship has always been a difficult one, often dependent on luck or "who you know." Most people just starting out don't have access to traditional on-campus recruiting services.
WayUp, the brainchild of CEO Liz Wessel, has democratized and streamlined the process, introducing a single common form which makes it easy to apply for jobs and helps prospective employers find candidates and set up interviews. To date, more than 3.5 million students and recent grads have become users of WayUp to connect with startups, local businesses and Fortune 500 companies that are hiring.
It's only fitting that WayUp would seek to acknowledge the bright young people who help make the venture a success. Companies are encouraged to submit nominations for its Intern Awards, which will reward outstanding interns in six areas of expertise. Businesses that visit the holiday's website and pledge to observe National Intern Day will receive a free kit with information and materials to hold their own in-office intern celebration.
As WayUp grows exponentially, it still has a sense of humor. We noticed this in the Frequently Asked Questions:
Do I need a picture?
A profile picture is not mandatory, but according to industry standards it increases your chances of getting hired by 14x. That does NOT, however, include the following: selfies, awkward pictures taken against white walls, or pictures where a red cup has been cropped out.
Sage advice! Happy National Intern Day!

https://www.worldwideweirdholidays.com/wp-content/uploads/2017/07/National-Intern-Day-e1500050679910.png
249
250
Kathleen Zea
https://www.worldwideweirdholidays.com/wp-content/uploads/2016/04/WWWH-New-Header-2-e1501022841118.jpg
Kathleen Zea
2017-07-26 15:06:44
2020-11-17 12:29:30
National Intern Day